01.12.2017 | Commentary | Ausgabe 1/2017 Open Access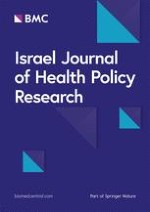 An end to lifetime blood donation ban in Israel for MSM would be a major step toward a science-based policy that reduces stigma
Zeitschrift:
Autoren:

Sean Cahill, Timothy Wang
Wichtige Hinweise
Electronic supplementary material
The online version of this article (doi:
10.​1186/​s13584-017-0139-2
) contains supplementary material, which is available to authorized users.
Abstract
In recent years, countries around the world have revised their blood donation policies regarding gay and bisexual men, and other men who have sex with men (MSM). The United States lifted the lifetime ban on MSM from donating blood in 2015, replacing it with a 1 year deferral policy allowing MSM to donate if they abstain from sex for 12 months. Other countries followed suit, while Italy and Spain have implemented deferral policies based on individual risk assessments regardless of sexual orientation. If Israel were to adopt a one year deferral policy for MSM, as recommended by Drs. Ginsberg et al. in this issue, the increase in risk to the blood supply would be minimal. Moving to a 1 year deferral policy would be an important step forward, but it could still be seen as stigmatizing to gay and bisexual men. We recommend that Israel consider a deferral policy based on individual risk assessment rather than a blanket deferral for all MSM. MSM can engage in low- and high-risk sexual behaviors. Those who consistently engage in low-risk behaviors, such as using condoms and pre-exposure prophylaxis consistently, pose little risk to the blood supply. An individual risk assessment policy would screen potential donors of all sexual orientations for low-, medium-, and high-risk behaviors. Potential donors identified as high-risk, such as injection drug users, would justifiably be subject to lengthy or permanent bans. MSM who engage in low-risk sexual behaviors would be allowed to donate without deferral. Medium-risk donors, such as men who have recently had unprotected anal sex with another man, would be subject to a deferral period of 1 month, which is in line with the window period of current HIV screening technology. Most fourth generation HIV tests can detect HIV within a month, and the nucleic acid test used to screen blood can detect HIV in just 9–11 days. Various studies have developed questions for ascertaining HIV risk among MSM which could be used in blood donor questionnaires. Using tablets or other technology that enhances privacy to conduct the blood donor questionnaire could improve collection of this sensitive information.