01.12.2017 | Research | Ausgabe 1/2017 Open Access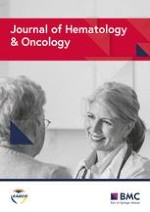 Analyses of caspase-1-regulated transcriptomes in various tissues lead to identification of novel IL-1β-, IL-18- and sirtuin-1-independent pathways
Zeitschrift:
Autoren:

Ya-feng Li, Gayani Nanayakkara, Yu Sun, Xinyuan Li, Luqiao Wang, Ramon Cueto, Ying Shao, Hangfei Fu, Candice Johnson, Jiali Cheng, Xiongwen Chen, Wenhui Hu, Jun Yu, Eric T. Choi, Hong Wang, Xiao-feng Yang
Wichtige Hinweise
Electronic supplementary material
The online version of this article (doi:
10.​1186/​s13045-017-0406-2
) contains supplementary material, which is available to authorized users.
Abbreviations
ChIP
Chromatin immunoprecipitation
DAMP
Danger associated molecular patterns
EBI
European Bioinformatics Institute
EMBL
European Molecular Biology Laboratory
NAD
Nicotinamide adenine dinucleotide
Nnt
Nicotinamide nucleotide transhydrogenase
PAMP
Pathogen-associated molecular patterns
PRIMA
Preferred Reporting Items for Systematic Reviews and Meta-Analyses
TRAF
Tumor necrosis factor receptor-associated factor
Background
Methods
Search for the microarray datasets
A thorough search was conducted to identify all the candidate datasets in the Gene Expression Omnibus databases from the NIH-National Center for Biotechnology Information and in the ArrayExpress databases from the European Molecular Biology Laboratory (EMBL)—European Bioinformatics Institute (EBI). Search terms included caspase1 (or Casp1), interleukin-1 beta (or IL-1β, IL-1βeta, IL-1β), interleukin-18 (or IL-18), and sirtuin-1 (or Sirt-1). Our meta-analysis were performed according to the "Preferred Reporting Items for Systematic Reviews and Meta-Analyses" guidelines (PRISMA) [
25
]. The flow diagram is shown in Additional file
1
: Figure S1b. The details of the datasets that were analyzed are shown in Additional file
1
: Table S1. We applied the following inclusion criteria for our study as shown in Additional file
1
: Figure S1b: (1) the organism was
Mus musculus
, (2) the datasets were the results from RNA microarray assay experiments, (3) the datasets were derived from the experiments using transgenic (Tg, gene overexpression) or gene-deficient mouse samples (gene downregulation and deficiency) of Casp1, IL-1β, IL-18, or Sirt-1, and (4) the datasets were derived from in vitro studies with activation or inhibition of Casp1, IL-1β, IL-18, or Sirt-1. In addition, we applied the following exclusion criteria for our study: (1) the datasets were derived from microRNA array; (2) the datasets were derived from chromatin immunoprecipitation (ChIP) followed by microarray (ChIP-on-chip), and ChIP followed by DNA sequencing (ChIP-seq); (3) the datasets were derived from the experiments with sample size less than 2 (statistical parameter
p
value cannot be generated); and (4) specific reasons: (a) for example, the GEO dataset GSE26766 was derived from the experiments, where IL-1β was injected in intracerebroventricular (ICV) whereas the RNAs of the skeletal muscle were isolated to run the expression array and (b) the GEO dataset GSE16104 was derived from an experiment where IL-1 was treated on IL-1 receptor knockout mice. The gene expression regulatory effect of IL-1 was complexed by IL-1 receptor knockout effects in regulating gene expressions.
Analysis of microarray data
Our gene expression data from microarray experiments with the aorta from five male ApoE
−/−
and five male Caspase-1
−/−
ApoE
−/−
mice were analyzed in the R statistical environment [
26
] using "oligo" and "limma" packages [
27
,
28
] and were deposited in the NIH-GEO database (GSE72248). Briefly, total RNA was extracted from the aortas of mice using the RNeasy Kit (Qiagen, Valencia, CA). Samples were then labeled and hybridized to Affymetrix Genechip Mouse Gene 2.0.ST Arrays (Santa Clara, CA) according to the manufacturer's instructions. Scanned microarray images were analyzed using the Affymetrix Gene Expression Console with Robust Multi-array Average normalization algorithm.
Meta-analysis of gene expression across tissues
To make data extracted from different microarray datasets comparable, the analysis was conducted on raw data in R statistical environment (Additional file
1
: Figure S1C-1, Table S1). Differential expression analysis of the experimental group versus the control group in each study was conducted using scripts modified from GEO2R [
29
]. Briefly, a design matrix was set up containing the samples that were to be compared. Differential expression was tested by lmFit and eBayes function from "limma" package [
28
].
P
value was adjusted by the Benjamini-Hochberg method [
30
]. For each gene in each study, we then calculated the effect size using the effectsize function from "metaMA" package [
31
]. The unbiased effect size and its variance were combined across multiple studies using the directEScombi function.
P
value was calculated from the combined statistics using normal distribution and adjusted by Benjamini-Hochberg method [
30
]. To calculate the combined fold change for each gene, we meta-analyzed the fold change across studies by inverse variance weighting method using metagen function from "meta" package [
32
].
Venn analysis was performed in R statistical environment using the package "Venn Diagram" to analyze Casp1-regulated gene expression among different tissues (Additional file
1
: Figure S1C-2). Heat maps and scatter plots were made using statistical tools provided by the R and Bioconductor projects. Statistical significance in this study was set at
p
 < 0.05. Meta-analysis was used to directly compare datasets derived from different microarray datasets. FC/FC ((FC) fold change) scatter plots were used to determine whether caspase−/−-regulated genes could cooperate with genes regulated by IL-1β, IL-18, or Sirt1 as was previously described (from herein referred as cooperation analysis) [
33
] (Additional file
1
: Figure S1C-3). For microarray datasets extracted from caspase-1−/− liver and adipose tissue, direct cooperation analyses without the precedent meta-analyses were performed to determine whether the caspase-1 regulatory genes cooperate with IL-1β, IL-18, and Sirt-1 regulatory genes (Additional file
1
: Figure S1C-4).
Results
Discussion
These evidence suggest that caspase-1 may regulate gene expression via unidentified non-canonical pathways as well. Therefore, we emphasize the need for experimental verification of novel caspase-1 cytosolic and nuclear substrates. Also, our findings highlight the complexity of caspase-1 signaling in biological systems and requirement of elucidating exact mechanisms of how caspase-1 regulates gene expression in the cells.
Traditionally, the enzymatic functions of proteases are tested by using their substrates as an indirect probe. Due to restrains such as time, lack of special instruments, and expertise, and also due to various tissue-specific expression patterns of substrates and physical accessibility of substrates under pathophysiological conditions, identification of all the substrates for caspase-1 is time consuming, laborious, and an expensive task. The approach utilized in this study used new angles to determine the biological functions of caspase-1 by examining the gene regulatory effects across tissues and comparing to that being regulated by three well-characterized substrates of caspase-1. Therefore, herein, we have demonstrated a new approach to determine the biological outcomes of protease-based signal transduction. Our findings may eventually lead to development of novel therapeutics for many inflammatory and non-inflammatory diseases.
This work was hypothetically driven and conducted using experimentally generated data available in public databases. It is our belief that this type of study significantly contribute to scientific progress, especially during the initial stages of identification of downstream targets and also inducing a paradigm shift in already established scientific models. We acknowledge that our analysis were done solely on microarray datasets and that it may not necessarily reflect the protein expression changes of the targets identified. Therefore, we emphasize the need for future experimental verification of the caspase-1 downstream targets identified in this study.
Conclusions
We have used meta-analysis to successfully integrate the data derived from caspase-1-, IL-1β-, and Sirt-1-related microarray datasets. Based on our results, we conclude that caspase-1 can exert a profound effect on the transcriptome in a tissue-specific manner and caspase-1-regulated genes partially cooperate with genes regulated by its well-known downstream targets. Furthermore, our meta-analysis revealed as many as 40 genes that are potentially regulated by caspase-1. Based on the current and our most recent publications, we conclude that caspase-1 can exert a major impact on gene regulation via its nuclear substrates where many seem to play a role as transcription factors. Also, tissue specificity of caspase-1 gene regulatory effects may be due to the assembly of a variety of inflammasome complexes depending on the cellular context and the nature of the stress. Also, differential expression of caspase-1 substrates and interaction proteins also may contribute to tissue specificity of caspase-1 function.
Acknowledgements
Not applicable.
Funding
This work is partially supported by NIH grants to Drs. XF. Yang, ET. Choi, and H. Wang and a grant from the National Natural Science Foundation of China (No. 81400751) to YFL.
Availability of data and materials
The datasets analyzed during the study are available in Gene Expression Omnibus (GEO) repository,
https://​www.​ncbi.​nlm.​nih.​gov/​gds
. The numbers of the datasets are as follows; GSE32515, GSE25205, GSE24931, GSE19272, GSE38075, GSE33627, GSE46895, GSE30247, GSE39778, GSE33101, GSE28790, GSE26425, and GSE19102.
Authors' contributions
YFL carried out the data gathering, data analyses, and figure/table preparations. GN, YS, XYL, LW, RC, YS, HF, CJ, JC, XC, WH, JY, ETC, and HW provided material input and helped revising the manuscript. XFY supervised the experimental design, data analyses, and manuscript writing. All authors read and approved the final manuscript.
Competing interests
The authors declare that they have no competing interests.
Consent for publication
Not applicable.
Ethics approval and consent to participate
Not applicable.
Open Access
This article is distributed under the terms of the Creative Commons Attribution 4.0 International License (
http://​creativecommons.​org/​licenses/​by/​4.​0/​
), which permits unrestricted use, distribution, and reproduction in any medium, provided you give appropriate credit to the original author(s) and the source, provide a link to the Creative Commons license, and indicate if changes were made. The Creative Commons Public Domain Dedication waiver (
http://​creativecommons.​org/​publicdomain/​zero/​1.​0/​
) applies to the data made available in this article, unless otherwise stated.