01.12.2015 | Research article | Ausgabe 1/2015 Open Access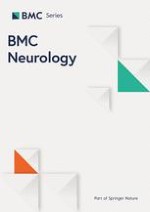 Analysis of SCA8, SCA10, SCA12, SCA17 and SCA19 in patients with unknown spinocerebellar ataxia: a Thai multicentre study
Zeitschrift:
Autoren:

Lulin Choubtum, Pirada Witoonpanich, Suchat Hanchaiphiboolkul, Roongroj Bhidayasiri, Onanong Jitkritsadakul, Sunsanee Pongpakdee, Suppachok Wetchaphanphesat, Pairoj Boonkongchuen, Teeratorn Pulkes
Wichtige Hinweise
Electronic supplementary material
The online version of this article (doi:
10.​1186/​s12883-015-0425-y
) contains supplementary material, which is available to authorized users.
Competing interests
The authors declare that they have no competing interests.
Authors' contributions
LC study design, genetic analysis. PW data collection and analysis of cognitive function. SH recruit cases and data collection. RB recruit cases and data collection. OJrecruit cases and data collection. SPrecruit cases and data collection. SW recruit cases and data collection. PB study design and clinical analysis. TP principal investigator, study design, clinical and statistical analysis, writing manuscript. All authors read and approved the final manuscript.
Abstract
Background
About 50 % of Thai patients with adult-onset spinocerebellar ataxia (SCA) was Machado-Joseph disease (MJD), SCA1, SCA2 and SCA6. The author investigated further on less common SCAs in the patients without any known mutations.
Methods
DNA samples of 82 index patients who were genetically excluded MJD, SCA1, SCA2, SCA6, SCA7 and dentatorubro-pallidoluysian atrophy (DRPLA) were examined. Analysis of SCA8, SCA10, SCA12, SCA17 and SCA19 genes were comprehensively performed. Normal range of trinucleotide repeat expansion sizes of TATA-box-binding protein gene (
TBP
) were also determined in 374 control subjects.
Results
Eight patients carried ≥42 CAG/CAA repeat allele in the
TBP
consistent with SCA17. The pathological repeat alleles ranged from 42 to 57 repeats. All patients had significant degree of cognitive dysfunction. Other non-ataxic phenotypes comprised of parkinsonism, chorea, dystonia and myoclonus. A sporadic patient carried a heterozygous 41-repeat allele developed chronic progressive cerebellar degeneration commenced at the age of 28 years. Whilst, 2 % of the control subjects (8/374) carried the 41-repeat allele. Five of the carriers were re-examined, and revealed that four of them had parkinsonism and/or cognitive impairment without cerebellar signs. Analysis of other types of SCAs was all negative.
Conclusions
This is the first study of SCA8, SCA10, SCA12, SCA17 and SCA19 in Thais. SCA17 appears to be an important cause of ataxia in Thailand. Although, the pathological cut-off point of the
TBP
repeat allele remains unclear, the finding suggests that the 41-repeat may be a pathological allele resulting late-onset or mild phenotype. Apart from ataxia, cognitive impairment and parkinsonism may be clinical presentations in these carriers.