01.12.2018 | Research | Ausgabe 1/2018 Open Access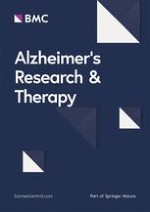 Anti-β-sheet conformation monoclonal antibody reduces tau and Aβ oligomer pathology in an Alzheimer's disease model
Zeitschrift:
Autoren:

Fernando Goñi, Mitchell Martá-Ariza, Krystal Herline, Daniel Peyser, Allal Boutajangout, Pankaj Mehta, Eleanor Drummond, Frances Prelli, Thomas Wisniewski
Wichtige Hinweise
Electronic supplementary material
Abstract
Background
Oligomeric forms of amyloid-β (Aβ) and tau are increasing being recognized as key toxins in the pathogenesis of Alzheimer's disease (AD).
Methods
We developed a novel monoclonal antibody (mAb), GW-23B7, that recognizes β-sheet secondary structure on pathological oligomers of neurodegenerative diseases.
Results
The pentameric immunoglobulin M kappa chain (IgMκp) we developed specifically distinguishes intra- and extracellular pathology in human AD brains. Purified GW-23B7 showed a dissociation constant in the nanomolar range for oligomeric Aβ and did not bind monomeric Aβ. In enzyme-linked immunosorbent assays, it recognized oligomeric forms of both Aβ and hyperphosphorylated tau. Aged triple-transgenic AD mice with both Aβ and tau pathology infused intraperitoneally for 2 months showed IgMκp in the soluble brain homogenate, peaking at 24 h postinoculation. Treated mice exhibited significant cognitive rescue on radial arm maze testing compared with vehicle control-infused mice. Immunohistochemically, treatment resulted in a significant decrease of extracellular pathology. Biochemically, treatment resulted in significant reductions of oligomeric forms of Aβ and tau.
Conclusions
These results suggest that GW-23B7, an anti-β-sheet conformational mAb humanized for clinical trials, may be an effective therapeutic agent for human AD.