01.12.2015 | Research | Ausgabe 1/2015 Open Access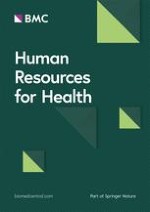 Approaches to improving the contribution of the nursing and midwifery workforce to increasing universal access to primary health care for vulnerable populations: a systematic review
Zeitschrift:
Autoren:

A. J. Dawson, A. M. Nkowane, A. Whelan
Wichtige Hinweise
Competing interests
The authors declare that they have no competing interests.
Authors' contributions
All authors developed the study protocol and design; AD led the review and analysis with input from AW and MN. AD led the writing of the manuscript, and all authors provided input and feedback. All authors read and approved the final manuscript.
Abstract
Background
Despite considerable evidence showing the importance of the nursing and midwifery workforce, there are no systematic reviews outlining how these cadres are best supported to provide universal access and reduce health care disparities at the primary health care (PHC) level. This review aims to identify nursing and midwifery policy, staffing, education and training interventions, collaborative efforts and strategies that have improved the quantity, quality and relevance of the nursing and midwifery workforce leading to health improvements for vulnerable populations.
Methods
We undertook a structured search of bibliographic databases for peer-reviewed research literature using a focused review question and inclusion/exclusion criteria. The quality of retrieved papers was appraised using standard tools. The characteristics of screened papers were described, and a deductive qualitative content analysis methodology was applied to analyse the interventions and findings of included studies using a conceptual framework.
Results
Thirty-six papers were included in the review, the majority (25) from high-income countries and nursing settings (32). Eleven papers defined leadership and governance approaches that had impacted upon the health outcomes of disadvantaged groups including policies at the national and state level that had led to an increased supply and coverage of nursing and midwifery staff and scope of practice. Twenty-seven papers outlined human resource management strategies to support the expansion of nurse's and midwives' roles that often involved task shifting and task sharing. These included approaches to managing staffing supply, distribution and skills mix; workloads; supervision; performance management; and remuneration, financial incentives and staffing costs. Education and training activities were described in 14 papers to assist nurses and midwives to perform new or expanded roles and prepare nurses for inclusive practice. This review identified collaboration between nurses and midwives and other health providers and organizations, across sectors, and with communities and individuals that resulted in improved health care and outcomes.
Conclusions
The findings of this review confirm the importance of a conceptual framework for understanding and planning leadership and governance approaches, management strategies and collaboration and education and training efforts to scale up and support nurses and midwives in existing or expanded roles to improve access to PHC for vulnerable populations.