01.12.2018 | Research article | Ausgabe 1/2018 Open Access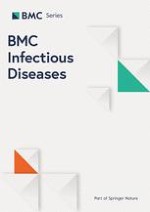 Arboviruses isolated from the Barkedji mosquito-based surveillance system, 2012-2013
Zeitschrift:
Autoren:

El Hadji Ndiaye, Diawo Diallo, Gamou Fall, Yamar Ba, Ousmane Faye, Ibrahima Dia, Mawlouth Diallo
Abstract
Background
A mosquito-based arbovirus surveillance system was set up at Barkedji, Senegal after the first outbreak of Rift valley fever in West Africa in 1988. This system was recently updated using more sampling methods and collecting in greater number of ponds and villages sites.
Methods
For the current study, mosquitoes were sampled biweekly between July and December 2012 and 2013 using CDC+CO2 light traps set at ground and canopy level, mosquito nets baited with goat, sheep, human or chicken, light traps baited with goat, sheep and chicken; bird-baited traps using pigeons or chickens placed either at the ground or canopy level. Collected mosquitoes were identified, pooled and screened for arboviruses.
Results
A total of 42,969 mosquitoes in 4,429 pools were processed for virus isolation. Ten virus species were identified among 103 virus isolates. West Nile virus (WNV; 31 isolates), Barkedji virus (BARV; 18), Sindbis virus (SINV; 13), Usutu virus (USUV; 12), Acado virus (ACAV; 8), Ndumu virus (NDUV; 9), Sanar virus (SANV; 7), Bagaza virus (BAGV; 3), Rift valley fever virus (RVFV; 1), and Yaounde virus (YAOV; 1) were isolated from 9 ponds (91 strains) and 7 villages (12 strains). Only 3 virus species (WNV, NDU and SINV) were isolated from villages. The largest numbers of isolates were collected in October (29.1% of total isolates) and November (50.5%). Viruses were isolated from 14 mosquito species including
Cx. neavei
(69.9% of the strains),
Cx. antennatus
(9.7%), and
Ma. uniformis
(4.8%). NDUV, ACAV, and SINV are herein reported for the first time in the Barkedji area. Isolation of ACAV and SANV from a pool of male
Ma. uniformis
and USUV and BARV from a pool of male
Cx. neavei
, are reported for the first time to our knowledge.
Conclusion
Our data indicate that the Barkedji area is characterized by a high diversity of viruses of medical, veterinary and unknown importance. Arboviruses were first detected in July at the beginning of the rainy season and peaked in abundance in October and November. The Barkedji area, an enzootic focus of several potentially emerging arboviruses, should be surveilled annually to be prepared to deal with future disease emergence events.