20.10.2018 | Original Article | Ausgabe 1/2019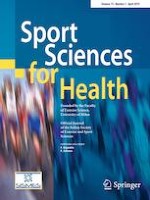 Associations of motor abilities with biological, sociodemographic, and behavioural factors in children: results from the ToyBox study
Zeitschrift:
Autoren:

Julia Birnbaum, Christine Geyer, Franca F. Kirchberg, Meike Beulshausen, Yannis Manios, Berthold Koletzko, On behalf of the ToyBox-study group
Abstract
Purpose
In this cross-sectional study, we examined the association of selected basic motor abilities with biological (sex, age, and BMI), sociodemographic [socio-economic status (SES), migration status], and behavioural factors (membership of sport club) in children aged 3–6 years.
Methods
We performed two motor tests, jumping from side to side (JSS) and standing long jump (SLJ) along with the anthropometric measurements in 1598 children (age 4.6 ± 0.70 years; 51% boys) from 58 kindergartens in Germany. GEE models were applied to examine cross-sectional associations between motor abilities and biological, sociodemographic, and behavioural factors.
Results
Age was significant positively related to both tests, JSS (
p
 < 0.001) and SLJ (
p
 < 0.001). Boys reached significantly better results in SLJ (
p
 < 0.001) but not in JSS. Children being member of a sport club performed better than those who were not (SLJ:
p
 < 0.001, JSS:
p
 < 0.001). BMI was inversely related to SLJ (
p
 = 0.014) and tended to be inversely related to JSS (
p
 = 0.64). No significant associations of migration background or SES with motor abilities were found.
Conclusion
When designing effective promotion and teaching strategies targeting children's motor abilities, information on age and gender differences should be taken into account. Preschool children may benefit from being member in sport clubs. Lower scores of motor abilities in children with higher BMI underline the importance to act early in childhood for prevention.