29.10.2018 | Original Article | Ausgabe 2/2019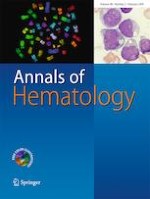 Autoimmune disease-associated non-Hodgkin's lymphoma—a large retrospective study from China
Zeitschrift:
Autoren:

Shaoxuan Hu, Daobin Zhou, Yongji Wu, Yongqiang Zhao, Shujie Wang, Bing Han, Minghui Duan, Jian Li, Tienan Zhu, Junling Zhuang, Xinxin Cao, Huacong Cai, Jun Feng, Yan Zhang, Fengchun Zhang, Xiaofeng Zeng, Yan Zhao, Qian Wang, Wei Zhang
Wichtige Hinweise
Electronic supplementary material
Abstract
The incidence and clinical implications of autoimmune diseases (ADs) in patients with non-Hodgkin's lymphoma(NHL) remain unclear. The aim of this study was to examine the prevalence of ADs in NHL and define the clinical characteristics and prognosis of AD-associated NHL patients. Patients diagnosed with NHL in our institute between 1995 and 2017 were retrospectively reviewed to assess the incidence of ADs. Of 4880 patients with NHL, 140 (2.9%) presented with autoimmunity, with a total of 24 ADs. The most common AD was Sjögren syndrome, followed by autoimmune cytopenia, psoriasis, rheumatoid arthritis, etc. Psoriasis and rheumatoid arthritis were significantly associated with pre-existing ADs, whereas autoimmune cytopenia was significantly associated with secondary AD. Sjögren syndrome was significantly associated with B-cell lymphoma, and systemic vasculitis was significantly associated with T-cell lymphoma. Patients with AD-associated NHL had a high frequency of extranodal involvement(87%), with significant associations between specific extranodal sites of lymphoma and subtypes of ADs. Among patients with available data on pre-treatment peripheral blood Epstein-Barr virus (EBV) DNA(
n
= 68), elevated EBV-DNA load was observed in a variety of NHL subtypes, including 20% of marginal zone lymphoma and 14.3% of follicular lymphoma patients. In a matched-pair analysis, survival did not differ significantly between NHL patients with and without ADs. However, for NHL patients with pre-existing ADs, a prior history of systemic corticosteroids therapy was significantly associated with worse survival (HR = 7.33,
P
= 0.006). Taken together, our data suggest that a broad spectrum of ADs is associated with NHL, and AD-associated NHL has distinct features with regard to clinical manifestations and prognosis.