06.10.2018 | Original Research | Ausgabe 2/2018 Open Access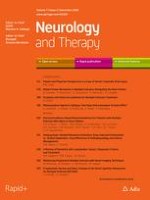 Burden of Migraine in Europe Using Self-Reported Digital Diary Data from the Migraine Buddy© Application
Zeitschrift:
Autoren:

Pamela Vo, Nicolas Paris, Aikaterini Bilitou, Tomas Valena, Juanzhi Fang, Christel Naujoks, Ann Cameron, Frederic de Reydet de Vulpillieres, Francois Cadiou
Wichtige Hinweise
Enhanced digital features
Abstract
Introduction
Migraine is a neurological disease characterized by recurring attacks that can cause severe disabling pain. This study described the burden of migraine as reported by individuals with migraine in the real world using a mobile application.
Methods
A retrospective, cross-sectional analysis was conducted using data captured through the Migraine Buddy© smartphone application from adult, self-diagnosed individuals with migraine in 17 European countries. Data were analyzed descriptively for the most recent 28-day period reported by users (
n
 = 3900) during the study period (June 2015–July 2016) who were randomly selected on the basis of data completeness (completion rates > 70%) and stratified by migraine headache days/month: 4–7 episodic migraine (EM;
n
 = 1500), 8–14 EM (
n
 = 1500), and chronic migraine (≥ 15; CM;
n
 = 900).
Results
More than 95% of users reported that migraine negatively affected their daily activities during at least one migraine attack. Attacks affected 50.5% (184.4 days/year), 26.9% (98 days/year), and 14.5% (53 days/year) of the year among CM, 8–14 EM, and 4–7 EM groups, respectively. On average, 44.8% CM, 40.9% 8–14 EM, and 34.7% of 4–7 EM sufferers, respectively, reported anxiety and/or depression symptoms during migraine attacks. Social or home activities, productivity, and sleep were highly affected, regardless of migraine frequency. Employed respondents (
n
 = 3106) reported an average of 2.3 workdays missed per month and that at least one in four migraines led to work absenteeism; these migraines were commonly reported to have at least moderate to severe levels of pain, corresponding to the inability of persons to perform some or even any activities. Triptans (68%), opioids (46%), and nonsteroidal anti-inflammatory drugs (45%) were self-reported as the most common medicines used.
Conclusions
This study, leveraging patient-reported data collected through a mobile application, demonstrates the high burden and impact of migraine on health-related quality of life, work productivity, and overall well-being of individuals suffering from migraines.
Funding
Novartis Pharma AG, Switzerland.