01.12.2017 | Letter to the Editor | Ausgabe 1/2017 Open Access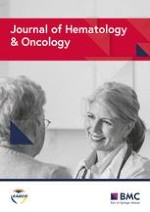 Can pegylated interferon improve the outcome of polycythemia vera patients?
Zeitschrift:
Autoren:

Elena Crisà, Marco Cerrano, Eloise Beggiato, Giulia Benevolo, Giuseppe Lanzarone, Paola Maria Manzini, Alessandra Borchiellini, Ludovica Riera, Mario Boccadoro, Dario Ferrero
Main text
Two different populations were compared: patients who received peg-IFN vs the control group receiving HU only. Patients' characteristics were compared using Fisher's exact test for the categorical variables and the Kruskal-Wallis test for the continuous ones. Overall survival was estimated from the study start until death or last follow-up by Kaplan-Meier method; any statistical difference between curves was assessed by log-rank test.
Globally, 87% of the patients treated with peg-INF responded (26/30), with a CR rate of 70% (21/30). Median time to CR was 6 months and median peg-INF dose at CR was 90 μg weekly. The four patients who did not respond had to early discontinue treatment due to intolerance. Most patients (87%) experienced some adverse events: hematologic toxicity (43%, grade 3–4 7%), flu-like symptoms (30%), and liver test elevation (23%, grade 3–4 7%). Overall discontinuation rate was 20%. JAK2 allele burden reduction was observed in 88% of the patients (21/24 evaluable ones). Median JAK2 allele burden at diagnosis was 40.5% (range 1.5–91%), and it decreased to 17% (range 0.3–81%) and 15.8% (range 0–77%) at 12 and 24 months after treatment start, respectively.
Our study, which has a substantial follow-up duration but which is limited by small patient and event number and lack of randomization, shows a significant survival advantage for peg-INF-treated patients, a data that could be explained by the absence of thrombotic events, the modest but important reduction in MF and AML progression and, possibly, the decreased risk of second malignancies in the peg-INF group. Indeed, our data require confirmation, but until the ongoing phase III trials give conclusive answers, they could support peg-INF as a first-line treatment option for PV, at least for younger patients.
Acknowledgements
Not applicable.
Funding
This work was supported by Fondi di Ricerca Locale, Università degli Studi di Torino, Turin, Italy.
Availability of data and materials
Not applicable.
Authors' contributions
EC and MC equally contributed to the work. EC and MC followed the patients, collected and analysed data, and wrote the paper. DF followed the patients, designed the study and wrote the paper. EB, GL, PM, GB, and AB followed the patients and collected data. LR performed molecular analysis. MB supervised the research and provided funds. All the authors reviewed the manuscript and approved it.
Competing interests
The authors declare that they have no competing interests.
Consent for publication
Not applicable.
Ethics approval and consent to participate
All patients signed an informed consent in accordance with the Declaration of Helsinki, and data were prospectively collected in the registry of myeloproliferative neoplasms of our Institutions. The study was approved by the Ethic Committee of our Institutions.
Open Access
This article is distributed under the terms of the Creative Commons Attribution 4.0 International License (
http://​creativecommons.​org/​licenses/​by/​4.​0/​
), which permits unrestricted use, distribution, and reproduction in any medium, provided you give appropriate credit to the original author(s) and the source, provide a link to the Creative Commons license, and indicate if changes were made. The Creative Commons Public Domain Dedication waiver (
http://​creativecommons.​org/​publicdomain/​zero/​1.​0/​
) applies to the data made available in this article, unless otherwise stated.