01.12.2018 | Research | Ausgabe 1/2018 Open Access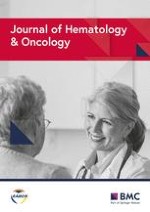 CAR-T cells targeting CLL-1 as an approach to treat acute myeloid leukemia
Zeitschrift:
Autoren:

Jinghua Wang, Siyu Chen, Wei Xiao, Wende Li, Liang Wang, Shuo Yang, Weida Wang, Liping Xu, Shuangye Liao, Wenjian Liu, Yang Wang, Nawei Liu, Jianeng Zhang, Xiaojun Xia, Tiebang Kang, Gong Chen, Xiuyu Cai, Han Yang, Xing Zhang, Yue Lu, Penghui Zhou
Wichtige Hinweise
Electronic supplementary material
Jinghua Wang, Siyu Chen and Wei Xiao are co-first authors.
Xing Zhang, Yue Lu and Penghui Zhou are co-last authors.
Abstract
Background
Acute myeloid leukemia (AML) is one of the most common types of adult acute leukemia. Standard chemotherapies can induce complete remission in selected patients; however, a majority of patients eventually relapse and succumb to the disease. Thus, the development of novel therapeutics for AML is urgently needed. Human C-type lectin-like molecule-1 (CLL-1) is a type II transmembrane glycoprotein, and its expression is restricted to myeloid cells and the majority of AML blasts. Moreover, CLL-1 is expressed in leukemia stem cells (LSCs), but absent in hematopoietic stem cells (HSCs), which may provide a potential therapeutic target for AML treatment.
Methods
We tested the expression of CLL-1 antigen on peripheral blood cells and bone marrow cells in healthy donor and AML patients. Then, we developed a chimeric antigen receptor (CAR) containing a CLL1-specific single-chain variable fragment, in combination with CD28, 4-1BB costimulatory domains, and CD3-ζ signaling domain. We further investigate the function of CLL-1 CAR-T cells.
Results
The CLL-1 CAR-T cells specifically lysed CLL-1+ cell lines as well as primary AML patient samples in vitro. Strong anti-leukemic activity was observed in vivo by using a xenograft model of disseminated AML. Importantly, CLL-1+ myeloid progenitor cells and mature myeloid cells were specifically eliminated by CLL-1 CAR-T cells, while normal HSCs were not targeted due to the lack of CLL-1 expression.
Conclusions
CLL-1 CAR-T represents a promising immunotherapy for the treatment of AML.