01.12.2017 | Research | Ausgabe 1/2017 Open Access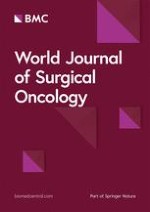 Case-matched study of short-term effects of 3D vs 2D laparoscopic radical resection of rectal cancer
Zeitschrift:
Autoren:

QingMin Zeng, Fuming Lei, ZhaoYa Gao, YanZhao Wang, Qing Kun Gao
Abstract
Background
The purpose of this study is to compare and evaluate the security and efficacy of 3D vs 2D laparoscopy in rectal cancer treatment.
Methods
Forty-six patients who suffered from rectal cancer and went on laparoscopic radical resection of rectal carcinoma in Peking University Shougang Hospital from Feb. 2015 to Mar. 2016 were included in the study. They were randomly divided into two groups. The 23 patients operated with the 3D system were compared with 23 patients operated with the 2D system by perioperative data.
Results
There were no significant differences in age, sex, pathological type, tumor differentiation, TNM staging, and surgical procedures (
P
> 0.05). The average operating time of 3D laparoscopic surgery group (172.2 ± 27.5 min) was shorter than that of 2D group (192.6 ± 22.3) (
P
< 0.05); the rate of transfer to laparotomy is lower in 2D group (72.7%) than in 3D group (86.4%), but they have no significant difference; and the intraoperative blood loss (247.0 ± 173.6 ml vs 282.6 ± 195.6 ml), postoperative passage of flatus (2.8 ± 0.8 days vs 3.1 ± 1.0 days), and indwelling catheter time (5.6 ± 1.9 days vs 6.3 ± 2.0 days) in 3D group and 2D group (
P
> 0.05) were not significantly different. There were no differences in other complications between the two groups. No significantly different recrudescence and death rates were found between the two groups (
P
> 0.05).
Conclusion
The 3D laparoscopy shortens the operation time of rectum cancer. 3D laparoscopic surgery is more efficient in treatment of rectal cancer than 2D laparoscopy and is worth of being generalized.