01.12.2015 | Study protocol | Ausgabe 1/2015 Open Access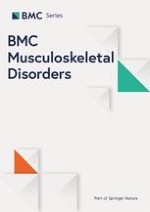 Cervical spine kinematics after anterior cervical discectomy with or without implantation of a mobile cervical disc prosthesis; an RCT
Zeitschrift:
Autoren:

Toon FM Boselie, Henk van Mameren, Rob A de Bie, Henk van Santbrink
Wichtige Hinweise
Electronic supplementary material
The online version of this article (doi:
10.​1186/​s12891-015-0479-4
) contains supplementary material, which is available to authorized users.
Competing interests
H. van Santbrink and T. Boselie have received reimbursements for conference attendance from the study sponsor (B. Braun Aesculap) in the past five years. R. de Bie, and H. van Mameren report no competing interests, either financially, or otherwise.
Authors' contributions
TB: study design, writing of the protocol, writing of the manuscript. HvM: study design, reviewing protocol, manuscript revision. RdB: study design, methodology, reviewing protocol, manuscript revision. HvS: principal investigator, study conception, study design, writing of the protocol, manuscript revision. All authors read and approved the final manuscript.
Authors' information
TB is a neurosurgical resident, and a PhD-candidate investigating cervical spine kinematics in cervical disc arthroplasty. HvM is an emeritus professor of epidemiology and a former professor of anatomy, who has been investigating cervical spine kinematics. He has special interest for use of this method of cervical spine motion analysis for scientific and clinical purposes. RdB is Director of education for Health and Professor of Physiotherapy Research at Maastricht University, and editor for the Cochrane Back Group and the Cochrane Musculoskeletal Group. HvS is a neurosurgeon with special emphasis on spine surgery and is the principal investigator for this RCT.
Abstract
Background
When surgically treating cervical degenerative disc disease, the most commonly performed procedure is anterior cervical discectomy. This procedure is performed with, or without fusion promoting methods. For both options the rate of fusion is high and there is much debate whether fusion of the treated segment is a contributing factor to accelerated degeneration of adjacent motion segments. In an effort to prevent degeneration of adjacent segments (ASDeg) due to loss of mobility at the operated level, cervical disc arthroplasty (CDA) was introduced. To evaluate the effectiveness of CDA in preventing ASDeg long term studies are necessary. However, prevention of ASDeg is based on the premise that mobile disc prostheses preserve cervical spine motion in a physiological way. In this article the authors describe a short term protocol for a study that aims to investigate whether CDA reaches the intended goal: restoration or preservation of physiological cervical spine motion. To this end, a technique is used to establish the sequence of contributions of cervical motion segments to flexion/extension of the spine.
Methods
24 subjects between 18 and 55 years old, with radicular symptoms due to a herniated disc between C5 and C7, refractory to conservative therapy are randomized to simple discectomy, or CDA. These groups are preceded by a pilot group of three subjects receiving CDA. Fluoroscopic flexion-extension recordings are acquired preoperatively, and at three and 12 months postoperative. At these same time points, patient reported outcomes are collected, and a neurological examination is performed by and independent physician.
Discussion
Studies investigating arthroplasty determine mobility by measuring segmental range of motion (sROM), which gives no information other than presence, and quantity, of mobility. SROM suffer from high variability. The authors therefore chose to use a method previously used in healthy controls, to describe the dynamic process of cervical spine motion in more detail. Determining cervical spine motion patterns has been reported to be more consistent than sROM. If a physiological motion pattern is absent after surgery in the CDA group, prevention of future ASDeg is less likely. Radiological outcomes will be correlated to clinical outcomes.
Trial Registration