01.12.2016 | Research article | Ausgabe 1/2016 Open Access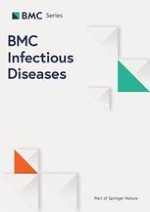 Changes in the prevalence and biofilm formation of
Haemophilus influenzae

and

Haemophilus parainfluenzae

from the respiratory microbiota of patients with sarcoidosis
Zeitschrift:
Autoren:

Urszula Kosikowska, Paweł Rybojad, Dagmara Stępień–Pyśniak, Anna Żbikowska, Anna Malm
Abstract
Background
Healthy condition and chronic diseases may be associated with microbiota composition and its properties. The prevalence of respiratory haemophili with respect to their phenotypes including the ability to biofilm formation in patients with sarcoidosis was assayed.
Methods
Nasopharynx and sputum specimens were taken in 31 patients with sarcoidosis (average age 42.6 ± 13), and nasopharynx specimens were taken in 37 healthy people (average age 44.6 ± 11.6). Haemophili were identified by API-NH microtest and by the matrix-assisted laser desorption/ionization time-of-flight mass spectrometry (MALDI-TOF MS) system. Biofilm was visualised by crystal violet staining and confocal scanning laser microscopy (CSLM). The statistical analysis was performed with Statgraphics Plus for Windows.
Results
In total, 30/31 patients with sarcoidosis and 31/37 healthy people were colonized by
Haemophilus influenzae
(6/30 vs. 1/31) and
Haemophilus parainfluenzae
(28/30 vs. 31/31) in the nasopharynx. The overall number of nasopharyngeal haemophili isolates was 59 in patients with sarcoidosis and 67 in healthy volunteers (
H. influenzae
6/59 vs. 1/67,
P =
 0.05;
H. parainfluenzae
47/59 vs. 65/67,
P =
 0.0032). Moreover, the decreased number of
H. parainfluenzae
biofilm-producing isolates was shown in nasopharyngeal samples in patients with sarcoidosis as compared to healthy people (19/31 vs. 57/65,
P =
 0.006), especially with respect to isolates classified as strong and very strong biofilm-producers (8/31 vs. 39/65,
P =
 0.002).
Conclusions
The obtained data suggest that the qualitative and quantitative changes within the respiratory microbiota concerning the overall prevalence of
H. influenzae
together with the decreased number of
H. parainfluenzae
strains and the decreased rate of
H. parainfluenzae
biofilm-producing isolates as compared to healthy people may be associated with sarcoidosis.