10.01.2021 | Cohort Studies | Ausgabe 3/2021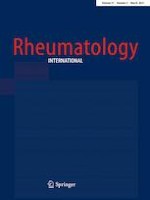 Characteristics and outcomes of overlap myositis: a comparative multigroup cohort study in adults from the MyoCite cohort
Zeitschrift:
Autoren:

R. Naveen, Upendra Rathore, Vikas Agarwal, Latika Gupta
Wichtige Hinweise
Supplementary Information
Publisher's Note
Springer Nature remains neutral with regard to jurisdictional claims in published maps and institutional affiliations.
Abstract
Overlap myositis (OM), an important subset of idiopathic inflammatory myopathies (IIM), is being increasingly recognized with wider myositis-specific autoantibody (MSA) testing. We studied the differences in clinical characteristics and long-term outcomes of OM with Dermatomyositis (DM), Polymyositis (PM), anti-synthetase syndrome (ASSD), and Cancer-associated IIM (CAM). Data from the MyoCite registry (Dec2017–May2020), a prospective dataset of IIM was extracted for the clinical profile, and MSAs, immunosuppressants received, disease activity (relapses and incomplete response), and treatment-related (drugs ADRs and infections) adverse events (DRAE and TRAE) were collected and analyzed between groups. Of 214 adults (58-OM,89-DM,27-ASSD,33-PM,7-CAM), OM had a greater female preponderance (13.5:1). Raynaud's and sclerodactyly were the prime distinguishing features of OM. OM could be distinguished from PM by frequent arthritis (OR-3.2) and infrequent dysphagia (OR-0.17); DM with greater nephritis (OR-20), infrequent dysphagia (OR-0.24) and rashes (OR-0.02); and ASSD by infrequent ILD (OR-0.07), and mechanic's hand (OR-0.05). 50% fulfilled the classification criteria for ASSD in the absence of MSA testing. ANA was positive more often (PM/DM: OR-6.7) and anti-Ro52 (OR-4.5) frequent in OM. Baseline serum creatinine and acute phase reactants were higher. OM received lower glucocorticoids (0 mg/kg,
p
 < 0.001). Overall, 90% and 84% of OM at 12 and 24 months, respectively, achieved remission, with similar DRAE and TRAE as other IIM subsets. OM can be misdiagnosed as ASSD in the absence of MSA testing. Raynaud's, sclerodactyly, and a positive ANA may identify OM and prevent overtreatment.