01.12.2018 | Research article | Ausgabe 1/2018 Open Access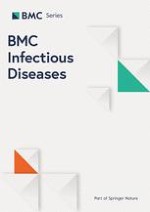 Characteristics of diarrheagenic
Escherichia coli

among children under 5 years of age with acute diarrhea: a hospital based study
Zeitschrift:
Autoren:

Yu Zhou, Xuhui Zhu, Hongyan Hou, Yanfang Lu, Jing Yu, Lie Mao, Liyan Mao, Ziyong Sun
Wichtige Hinweise
Electronic supplementary material
Abstract
Background
Diarrhea is the leading infectious cause of childhood morbidity and mortality. Among bacterial agents, diarrheagenic
Escherichia coli
(DEC) is the major causal agent of childhood diarrhea in developing countries, particularly in children under the age of 5 years. Here, we performed a hospital-based prospective study to explore the pathotype distribution, epidemiological characteristics and antibiotic resistance patterns of DEC from < 5-year-old diarrheal children.
Methods
Between August 2015 and September 2016, 684 stool samples were collected from children (< 5 years old) with acute diarrhea. All samples were cultured and identified by matrix-assisted laser desorption ionization time-of-flight mass spectrometry (MALDI-TOF MS) and biochemical tests. PCR was used for subtyping, and enteropathogenic
E. coli
(EPEC) isolates were identified simultaneously with serology. Furthermore, antimicrobial sensitivity tests and sequencing of antibiotic resistance-related genes were conducted.
Results
DEC strains were identified in 7.9% of the 684 stool samples. Among them, the most commonly detected pathotype was EPEC (50.0% of DEC), of which 77.8% were classified as atypical EPEC (aEPEC). Age and seasonal distribution revealed that DEC tended to infect younger children and to occur in summer/autumn periods. Multidrug-resistant DEC isolates were 66.7%; resistance rates to ampicillin, co-trimoxazole, cefazolin, cefuroxime, cefotaxime, and ciprofloxacin were ≥ 50%. Among 5 carbapenem-resistant DEC, 60.0% were positive for carbapenemase genes (2
blaNDM-1
and 1
blaKPC-2
). Among 30 cephalosporin-resistant DEC, 93.3% were positive for extended-spectrum β-lactamase (ESBL) genes, with
blaTEM-1
and
blaCTX-M-55
being the most common types. However, no
gyrA
or
gyrB
genes were detected in 16 quinolone-resistant isolates. Notably, aEPEC, which has not received much attention before, also exhibited high rates of drug resistance (81.0%, 66.7%, and 14.3% for ampicillin,
co-trimoxazole
, and carbapenem resistance, respectively).
Conclusions
EPEC was the most frequent DEC pathotype in acute diarrheal children, with aEPEC emerging as a dominant diarrheal agent in central China. Most DEC strains were multidrug-resistant, making even ciprofloxacin unsuitable for empiric treatment against DEC infection. Among carbapenem-resistant DEC strains, those harboring
blaNDM-1
and
blaKPC-2
were the main causal agents.
blaTEM-1
and
blaCTX-M-55
were the major genetic determinants associated with high levels of cephalosporin resistance.