01.12.2014 | Original Contribution | Ausgabe 4/2014 Open Access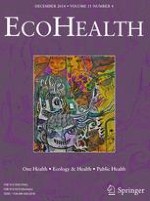 Chlamydiosis in British Garden Birds (2005–2011): Retrospective Diagnosis and
Chlamydia psittaci

Genotype Determination
Zeitschrift:
Autoren:

K. M. Beckmann, N. Borel, A. M. Pocknell, M. P. Dagleish, K. Sachse, S. K. John, A. Pospischil, A. A. Cunningham, B. Lawson
Wichtige Hinweise
Electronic supplementary material
The online version of this article (doi:
10.​1007/​s10393-014-0951-x
) contains supplementary material, which is available to authorized users.
Abstract
The significance of chlamydiosis as a cause of mortality in wild passerines (Order Passeriformes), and the role of these birds as a potential source of zoonotic
Chlamydia psittaci
infection, is unknown. We reviewed wild bird mortality incidents (2005–2011). Where species composition or post-mortem findings were indicative of chlamydiosis, we examined archived tissues for
C. psittaci
infection using PCR and ArrayTube Microarray assays. Twenty-one of 40 birds tested positive: 8 dunnocks (
Prunella modularis
), 7 great tits (
Parus major
), 3 blue tits (
Cyanistes caeruleus
), 2 collared doves (
Streptopelia decaocto
, Order Columbiformes), and 1 robin (
Erithacus rubecula
).
Chlamydia psittaci
genotype A was identified in all positive passerines and in a further three dunnocks and three robins diagnosed with chlamydiosis from a previous study. Two collared doves had genotype E. Ten of the 21
C. psittaci
-positive birds identified in the current study had histological lesions consistent with chlamydiosis and co-localizing
Chlamydia
spp. antigens on immunohistochemistry. Our results indicate that chlamydiosis may be a more common disease of British passerines than was previously recognized. Wild passerines may be a source of
C. psittaci
zoonotic infection, and people should be advised to take appropriate hygiene precautions when handling bird feeders or wild birds.