01.12.2018 | Research article | Ausgabe 1/2018 Open Access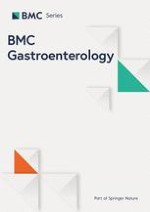 Clinical characteristics of hepatic Arterioportal shunts associated with hepatocellular carcinoma
Zeitschrift:
Autoren:

Huiyong Wu, Wei Zhao, Jianbo Zhang, Jianjun Han, Shuguang Liu
Abstract
Background
Hepatic arterioportal shunt (A-P shunt) is defined as the direct blood flow established between hepatic artery and portal venous system; it is frequently observed in patients with hepatocellular carcinoma (HCC). Clinically, it is important to diagnose HCC associated A-P shunts, as it may impact the treatment strategy of the patients. In the present study, we described the imaging findings of the HCC associated A-P shunts and discussed the treatments strategy of such patients. From the findings, we also discussed the potential cause of A-P shunts.
Methods
Clinical data of HCC patients (
n
 = 560), admitted to the hospital between April 2012 to April 2014, were reviewed. Hepatic angiography was used to examine the presence of A-P shunts. Of the 137 patients with A-P shunts, grading of the A-P shunts was performed, and statistical analysis of the different grades of A-P shunts and clinical characteristics was performed.
Results
The hepatic angiography confirmed that 99 patients had typical A-P shunts (Grade 1–3), and 38 patients had atypical A-P shunts. Embolization was the main strategy used to treat A-P shunts, in which liquid embolic agents appeared to provide a better treatment outcome. The correlation analysis showed that the grading of portal vein tumor thrombus was significantly associated with the grading of A-P shunt (
p
 = < 0.001, Spearman correlation coefficient was 0.816 ± 0.043).
Conclusions
We characterized A-P shunts and proposed treatment strategy for treating HCC patients with various levels of A-P shunts. The findings supported the hypothesis that the formation of HCC associated A-P shunts was caused by tumor thrombus.