22.06.2020 | Case Based Review | Ausgabe 9/2020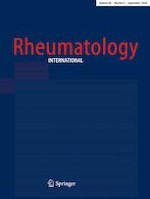 Clinical presentation, imaging and response to interferon-alpha therapy in Erdheim–Chester disease: case-based review
Zeitschrift:
Autoren:

Oleg Iaremenko, Liubov Petelytska, Olena Dyadyk, Nataliia Negria, Dmytro Fedkov
Wichtige Hinweise
Publisher's Note
Springer Nature remains neutral with regard to jurisdictional claims in published maps and institutional affiliations.
Abstract
Erdheim–Chester disease (ECD) is a rare non-Langerhans cell histiocytosis associated with BRAFV600E mutations in more than 50% of cases and presenting with 95% with skeletal lesions. However, cutaneous, pulmonary, large vessels and central nervous system involvement can also occur. We report a case of a 25-year-old woman who was admitted in 2018 for exploration of diffuse bone pain and rashes on the face. Her current symptoms had started 14 months earlier and consisted of bone pain, affecting the legs. She had periodic low-grade fever, asthenia and xanthelasma-like papules appeared on face. At admission, physical examination showed bilateral and symmetrical long bone pain, especially in the knees and multiple xanthelasma-like papules around the eyelids, cheeks and chin. Laboratory tests revealed elevated erythrocyte sedimentation rate and C-reactive protein. Magnetic resonance (MR) imaging showed multiple mixed bone lesions with a hyperintensive MR signal on PD FS and hypointense signal on T1of the femur and tibia. Bone scintigraphy indicated bilateral and symmetrical metaphyseal and diaphyseal increased uptake. Abdominal computed tomography (CT) scan showed infiltration of the perirenal fat. Biopsy of the skin revealed histiocytic infiltration, which was CD68-positive and CD100-positive, confirming the diagnosis of ECD. Patient was treated with interferon-α (IFN-α) plus methylprednisolone. After 6 months of treatment her clinical condition partly improved: a reduction of pain on visual analogue scale (VAS) scale, significant decrease of methylprednisolone dose and specific dynamics according to bone MR imaging data, however, no change in symptoms attributed to skin rash was noted. We also provide the literature review results of IFN-α treatment efficacy in Erdheim–Chester disease involving the skin and musculoskeletal system with MR imaging changes.