01.12.2017 | Research article | Ausgabe 1/2017 Open Access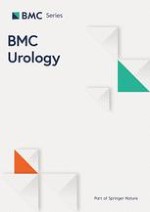 Clinical relevance of aortic calcification in urolithiasis patients
Zeitschrift:
Autoren:

Toshikazu Tanaka, Shingo Hatakeyama, Hayato Yamamoto, Takuma Narita, Itsuto Hamano, Teppei Matsumoto, Osamu Soma, Yuki Tobisawa, Tohru Yoneyama, Takahiro Yoneyama, Yasuhiro Hashimoto, Takuya Koie, Ippei Takahashi, Shigeyuki Nakaji, Yuriko Terayama, Tomihisa Funyu, Chikara Ohyama
Abstract
Background
The aim of the present study is to investigate the clinical relevance of aortic calcification in urolithiasis patients.
Methods
Between January 2010 and September 2014, 1221 patients with urolithiasis were treated in Oyokyo Kidney Research Institute and Hirosaki University Hospital. Among these, 287 patients (Stone group) on whom adequate data were available were included in this retrospective study. We also selected 148 subjects with early stage (pT1N0M0) renal cell carcinoma from 607 renal cell carcinoma patients who underwent radical nephrectomy at Hirosaki University Hospital (Non-stone group) as control subjects. Validity of the Non-stone group was evaluated by comparison with pair-matched 296 volunteers from 1166 subjects who participated in the Iwaki Health Promotion Project in 2014. Thereafter, age, body mass index, aortic calcification index (ACI), renal function, serum uric acid concentrations, and comorbidities (diabetes, hypertension, or cardiovascular disease) were compared between the Non-stone and Stone groups. Independent factors for higher ACI and impaired renal function were assessed using multivariate logistic regression analysis.
Results
We confirmed relevance of Non-stone group patients as a control subject by comparing the pair-matched community-dwelling volunteers. Backgrounds of patients between the Non-stone and Stone groups were not significantly different except for the presence of hypertension in the Stone group. ACI was not significantly high in the Stone group compared with the Non-stone group. However, age-adjusted ACI was greater in the Stone group than the Non-stone group. Among urolithiasis patients, ACI was significantly higher in uric acid containing stone patients. The number of patients with stage 3B chronic kidney disease (CKD) was significantly higher in the Stone group than in the Non-stone group (12% vs. 4%,
P
 = 0.008). Multivariate logistic regression analysis showed higher aortic calcification index (>13%), and being a stone former were independent factors for stage 3B CKD at the time of diagnosis.
Conclusion
Aortic calcification and being a stone former had harmful influence on renal function. This study was registered as a clinical trial: UMIN: UMIN000022962.