01.12.2018 | Review | Ausgabe 1/2018 Open Access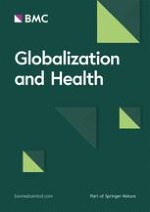 Collaborative research and actions on both sides of the US-Mexico border to counteract type 2 diabetes in people of Mexican origin
Zeitschrift:
Autoren:

Simón Barquera, Dean Schillinger, Carlos A. Aguilar-Salinas, Marc Schenker, Luis A. Rodríguez, Cesar Hernández-Alcaraz, Jaime Sepúlveda-Amor, Mexico-California Diabetes collaborative group
Background
The American continent is the region of the world with the highest prevalence of obesity and Type 2 Diabetes (T2D), where the patterns of mortality are dominated by non-communicable (e.g. chronic) diseases. A major contributor to the burden of chronic disease in Mexico and the United States of America is T2D [
1
]. Both countries rank among the top ten countries in the Organization for Economic Cooperation and Development in terms of highest absolute number of cases, and rank first and second, respectively, in terms of population prevalence. The proportion of the population with abnormal glucose tolerance is 52.4% for the US (14.4% T2D, 38% pre-diabetes) [
2
] and 33.5% for Mexico (14.1% T2D, 19.1% pre-diabetes) [
3
]. Of note, Mexican-Americans, which constitute the largest ethnic group in the state of California (15 million people, or 38% of the California population) [
4
] are also the ethnic group with the highest prevalence of T2D in the US (23.8%) [
2
]. Finally, T2D is a strong risk factor for cardiovascular disease and tuberculosis, doubling and tripling the risk of these comorbid conditions, respectively. As a result, preventing and controlling T2D among people of Mexican origin is one of the many shared and critical interests of Mexico and California, and should be viewed as a bi-national priority.
Type 2 diabetes in Mexico
Diabetes in Mexican-Americans
As described above, adults of Mexican origin living in the US, when compared to other racial/ethnic groups in the US, have one of the highest prevalence of diabetes (23.8% compared to 11.3% in non-hispanic white), and have rates much higher than Mexicans residing in Mexico [
2
]. In California, an additional 44% of Latinos have pre-diabetes [
18
]. Many US studies report an increased risk among Latinos in general, and Mexican-Americans in specific, both with respect to developing T2D and disproportionately suffering some of its complications. There appears to be a particular vulnerability to micro-vascular complications, such as retinopathy and blindness; nephropathy and end-stage kidney failure; and neuropathy and associated amputations. Diverse factors have been hypothesized to underlie these vulnerabilities, including genetic susceptibility, perinatal conditions including malnutrition and breast-feeding practices, adverse dietary and lifestyle patterns related to acculturation (high consumption of sugar-sweetened beverages, processed foods and low physical activity), food insecurity and lower socioeconomic status, poor access to health services, receipt of poor quality healthcare services, communication barriers (such as limited literacy and limited English proficiency) [
19
,
20
] and sub-optimal adherence to treatment recommendations.
One of the most serious concerns now facing the Mexican-American community in California is the "greening" of the T2D epidemic; once considered a disease of the old, T2D is now affecting youth and young adults. The mean age at time of T2D diagnosis among Hispanic Americans in the US is now less than age 50 [
21
]. Whereas only 15 years ago fewer than 1 in 10 US teens had pre-diabetes, now approximately 1 in 5 do [
22
]. Rates are even higher for Mexican-Americans; in fact, nearly 1 out of 100 Mexican-American teens (0.9%) now has diabetes. The Centers of Disease Prevention and Control has projected that a Mexican-American child born in 2000 has a greater than 50% chance of developing T2D in their lifetime [
23
].
Current national efforts against T2D in Mexico
Major challenges, however, remain unaddressed
Multi-sector coordination of initiatives is urgently needed. Urban planning, education, healthy food availability, access to clean water and physical activity spaces require coordinated efforts to tackle this health challenge effectively. In addition, national registries and translational research are currently at an early stage. Four major challenges need to be addressed: first, reduce exposure to the factors that increase risk for T2D at the population level; second, increase identification and diagnosis of patients with pre-diabetes and diabetes; third, increase effectiveness of therapeutic interventions to meet or exceed international standards of control; and fourth, increase early identification and control of complications to improve the quality of life of population with diabetes [
32
]. Despite the remarkable social and economic cost of T2D chronic complications (especially diabetic retinopathy and end-stage kidney failure), there is little information at the level of the Mexican healthcare system regarding the quality and processes of care in both the prevention of quality of care for retinopathy and kidney failure.
Interventions targeted to populations of Mexican origin in the US
In 2010, the US Centers for Disease Control and Prevention (CDC) created the National Program to Eliminate Diabetes-Related Disparities in Vulnerable Populations, a five-year cooperative agreement (2010–2015). The main goal of the agreement was to identify and carry out public health activities specific to the culture of selected communities to address differences in health outcomes associated with diabetes. These activities aimed to prevent and control factors that increase the risk for developing T2D and its complications, such as poor nutrition and physical inactivity; raise T2D awareness; promote diabetes self-management; and improve outcomes and quality of life for those living with T2D in high-risk communities and regions across the country. The National Alliance for Hispanic Health was a recipient, and a demonstration project was recently completed in Watsonville, CA, an agricultural region. Results are forthcoming.
Leveraging binational efforts to study T2D prevention and control
A greater commitment to translational research is needed to help authorities and stakeholders develop plans for future action. Research is critical to plan and implement policies to combat T2D. However, since the US-Mexico Border Project ended, there has been a lack of coordinated bi-national efforts to improve our understanding of the epidemic in this population.
There are a number important research opportunities for the study of prevention and control of T2D in Mexicans living in Mexico and California. The uniqueness and diversity of the populations and their respective environments can be harnessed to generate new local and global knowledge. For example, Mexicans have a higher proportion of Amerindian heritage (30–50%), a group that is inadequately represented in the genetic consortia [
62
]. This ethnic group develops T2D at a younger age and with a lower BMI than that found in individuals of European descent. In addition, studying their increased susceptibility to microvascular complications (especially diabetic nephropathy and retinopathy) in samples of individuals with the similar genetic backgrounds who are living in different settings, can offer insights into the pathogenesis of T2D-related complications. Environmental risk factors related to T2D (e.g, migration, exposure to pollutants or calorie-dense foods and beverages) have evolved rapidly in the region. [
63
]. Public policies against T2D could be tested in a shorter period of time than in other areas because of the large number of outcomes related to T2D. In addition, low-threshold interventions could be implemented in populations of the same ethnic origin but living in different socioeconomic contexts. Additional research and development of innovative health communication interventions, such as
The Bigger Picture
and
Dulce Veneno
, is a pubic health priority, and collaborative exchange between such campaigns could yield new insights and generate additional resources to scale these programs. Little is known about risks for special sub-groups (e.g. gestational diabetes, pre-diabetes, monogenic forms of diabetes and for most chronic complications), including insufficient data for many of the outcomes related to T2D (including DALYS and quality adjusted life years (QALYs). The use of low-threshold interventions to prevent T2D and its complications is at an early stage. Interventions for preventing T2D that target patients with certain characteristics have been developed, but their use has been limited to efficacy studies.
Two of the National Institutes of Health of Mexico, the National Institute of Medical Sciences and Nutrition (INNSZ) and the National Institute of Public Health (INSP), have collaborated for several years to describe the epidemiology, genetics and the use of health services of patients with T2D. Moreover, several campuses of the University of California are leaders on various issues related to T2D (e.g., translational research, genomics, gestational diabetes, prevention programs). A platform for collaborative research between Mexico and the University of California can enhance ongoing institutional and governmental efforts and create lead to discoveries related to T2D in populations of Mexican origin. In November 2015, a group of researchers from the University of California, the Mexican National Institutes of Health (represented by the INNSZ and INSP), the Mexican National Autonomous University (UNAM) and the Mexican National Institute of Social Security held a joint meeting at the UC Institute of Global Health to discuss possible collaborations to respond major common health problems. T2D was selected as one of 4 focus areas of this UC Mexico Health Initiative. In April of 2016, this T2D group had a first meeting in Mexico City to develop an agenda of collaboration and identify and design a multi-stage multidisciplinary research program on T2D. This program is focused on both understanding the complex origins of the T2D epidemic among people of Mexican descent and identifying practical and effective solutions to improve prevention and control of the epidemic. Creating a common, coordinated agenda is valuable for many reasons. First, economies of scale may be created by the synergies between the translational research groups. Second, researchers will benefit from multidisciplinary international exchange. Third, having the largest public universities in both countries (UC and UNAM) supporting this initiative can also generate political support, educational opportunities, financial resources ad other forms of capacity that might not be possible otherwise, or could take a much longer time to develop.
A proposed research agenda for T2D prevention and control in Mexicans and Mexican-Americans
The consensus objective of the bi-national T2D group is to reduce the health burden of T2D on society in Mexico and California by focusing on the study of prevention and control strategies for populations of Mexican origin. Examples of such collaborative work include successful cross-national work on tuberculosis control, tobacco control and HIV control/AIDS prevention [
64
]. Our underlying principles include collaborative team-work, promoting public health literacy, maintaining reliable and ongoing sources of data for surveillance and evaluation, prioritizing and evaluating clinical and cost-effectiveness of interventions, and ensuring that interventions are scalable, can have a strong population-level impact, and are independent from (diabetes- and nutrition-related) industry interests. Finally, we focus our efforts on vulnerable populations, defined as sub-groups of the larger population that carry a
greater risk of risks
due to social, economic, environmental, historical or political forces.
The Diabetes subgroup of the UC Mexico Health Initiative is taking a sequential approach to address the T2D epidemic among the Mexican-origin populations in Mexico and California. Three sequential yet overlapping phases are being developed. The first phase started in late 2015 with the creation of the subgroup, identification of its co-chairs and teams, development of its mission, objectives and goals and creation of essential descriptive studies. Phase II began in mid-2016 and is primarily focusing on the discovery of new knowledge by carrying out population-based surveys (ENSANUT 2016), collection of biometric data, developing modeling studies of potential benefits of interventions based on the Mexican and American CVD Policy model, synthesizing the promise of current and future T2D prevention and control policy efforts, and influencing the public discourse related to food and beverage policy. In addition, a matrix of Mexican and Californian researchers was built to enhance the interactions between participating institutions. Phase III will begin in 2017 and will attempt to develop medium- to large-scale interventions with potential to make a significant impact on the T2D rates and improve the health of patients suffering from T2D. These include designing an intervention to harness the available "Social Safety Net" to prevent T2D (e.g. food banks in US and social programs such as
Oportunidades
in Mexico), implementing a quasi-experimental trial using Metformin for T2D prevention, and developing an initiative to detect and reduce eye and kidney disease. These interventions will run in parallel with the implementation of communication campaigns to enhance awareness, disseminate results of programs and gain broader public attention and support.
As of December of 2016, the group has made progress on the short/intermediate objectives, as well as initiating some of the long-term objectives. The group has created a matrix of translational researchers at UC and Mexico. A modeling study exploring the impact of the Mexican soda tax on diabetes and cardiovascular health and health expenditure has been recently published [
28
] and a cost-effectiveness analysis of a modeled intervention of metformin vs. lifestyle for the prevention/delay of onset of T2D among Mexican adults in Mexico with pre-diabetes is in progress. It has also authored influential papers demonstrating (a) the extent of bias in experimental etiologic research related to diabetes pathogenesis resulting from the financing of science by the sugary beverage industry [
65
] and (b) a critique of the food and beverage industry's claims that WHO's added sugar guidelines are not evidence-based [
66
]. The group also obtained a grant to evaluate biological samples from the Mexican National Health and Nutrition Survey (ENSANUT 2016), blood sugar, lipids and for the first time indicators of kidney disease. It has also obtained funding to continue the development of an early detection system for retinopathy in Mexico, taking advantage of the telemedicine experience developed in California [
55
], and is carrying out a funded diabetes prevention and control intervention in food banks in California. Finally, both UC and Mexico teams have met with the Secretary of Health of Mexico City, and are in the planning phases of a large primary care-based effectiveness trial of Metformin plus lifestyle for T2D prevention in Mexico City's public healthcare system.
Conclusions
T2D is the major health problem in Mexican population on both sides of the border. The prevention and control of T2D among people of Mexican origin requires extensive knowledge of the multidimensional causes of the disease, and development of evidence-based investments in multi-sectorial, multi-level efforts involving feasible and cost-effective interventions. In the context of geographic proximity and common ancestry, the existence of a large population of Mexican origin with differential exposures to unhealthy environments, economic stressors, and limited public health budgets, combined with the urgent need to implement policies and actions, a joint bi-national collaboration between California and Mexican health researchers might be one essential component to successfully tackling the T2D epidemic by improving our understanding of feasible and effective interventions.
There is an important gap between the quality and quantity of information generated by those in academia and the implementation of effective interventions into practice in real life settings, particularly among vulnerable populations. The combined resources in low to middle income countries and higher income countries should be leveraged to reduce this gap. The development and nurturing of collaborative groups between countries – collaborations that involve community- and policy-engaged researchers - is one option to confront this challenge. The need to understand susceptibility to disease in populations with common ancestry is also easier to approach in a context of collaboration, where exposure to different environments can shed light on vulnerability and resilience, as well as highlight avenues for intervention.
Unlike other health problems, the prevention and control of non-communicable chronic diseases such as T2D will not only require the development of high-tech/low cost healthcare interventions but also on policy-level actions. For example, national policies such as the front-of-pack warning labels for unhealthy food in Chile and the soda tax in Mexico are being imported by developed countries attempting to prevent and control chronic diseases [
67
,
8
]. Such examples suggest that mutual benefits are likely in these types of collaborations.
The context of globalized economies, diverse migration patterns, evolving anti-immigrant policies and their associated health challenges, together has created an increasing complex environment requiring multi-national cooperation to improve the health of populations. Although the example of the T2D epidemic in people of Mexican origin in the US and Mexico in some ways is unique, the processes and products developed by this binational collaboration might prove to be a successful model and case study for countries sharing similar burdens of disease in an increasingly globalized world.
Acknowledgments
We gratefully acknowledge Xochitl Castañeda, Samuel Ponce de León and Lisset Irizarry for their support in the coordination of the bi-national US-Mexico initiative. The content is solely the responsibility of the authors and does not necessarily represent the official views or positions of the author's institutions.
Mexico-California Diabetes collaborative group members (alphabetical order):
Aguilar-Salinas CA, Ahued A, Barquera S, Bertozzi S, Bibbins-Domingo A, Castañeda X, Cuadros J, Elias-Lopez D, Fernández A, Ponce de Leon S, Fromow-Guerra J, Hernández-Alcaraz C, Hernández M, Kauffer M, Kershenobich D, Muñoz-Hernández L, Pedroza A, Rivera J, Rodríguez LA, Salmeron J, Laura Schmidt, Sepúlveda-Amor J, Schenker M, Schillinger D.
Funding
Research reported in this publication was supported by a grant from the University of California Institute for Mexico and the United States (UC MEXUS) and the National Council of Science and Technology (CONACYT) Mexico (JSA); the Fogarty International Center of the National Institutes of Health (
http://​www.​fic.​nih.​gov/​Pages/​Default.​aspx
) under Award Number R03TW009061 (SB), a Grant from Fundación Rio Arronte (SB, CAS, JSA); supported, in part, by NIDDK Centers for Diabetes Translational Research grant under Award Number P30-DK092924 (DS); and also supported, in part, by NIDDK Award Number D31 DK115029 (LAR). The funders had no role in study design, data collection and analysis, decision to publish, or preparation of the manuscript.
Availability of data and materials
Not applicable.
Ethics approval and consent to participate
Not applicable.
Consent for publication
All the authors have approved the manuscript.
Competing interests
The authors declare that they have no competing interests.
Publisher's Note
Springer Nature remains neutral with regard to jurisdictional claims in published maps and institutional affiliations.
Open Access
This article is distributed under the terms of the Creative Commons Attribution 4.0 International License (
http://​creativecommons.​org/​licenses/​by/​4.​0/​
), which permits unrestricted use, distribution, and reproduction in any medium, provided you give appropriate credit to the original author(s) and the source, provide a link to the Creative Commons license, and indicate if changes were made. The Creative Commons Public Domain Dedication waiver (
http://​creativecommons.​org/​publicdomain/​zero/​1.​0/​
) applies to the data made available in this article, unless otherwise stated.