01.12.2018 | Case report | Ausgabe 1/2018 Open Access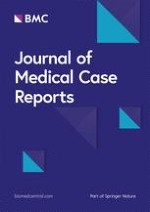 Complete resection of a rectus abdominis muscle invaded by desmoid tumors and subsequent management with an abdominal binder: a case report
Zeitschrift:
Autor:

Tatsuhiko Ogawa
Abstract
Background
Desmoid-type fibromatosis is characterized by desmoid tumors, which are benign soft tissue tumors that can be locally aggressive but typically do not metastasize. Desmoid tumors can manifest anywhere in the body, and those in the abdominal cavity account for approximately 30 to 50% of all such tumors. Complete resection with free margins has been the standard treatment, but non-surgical therapies have been implemented recently. However, if tumors are strongly invasive and/or persistently recur, radical surgical resection with free margins remains the primary treatment. Unfortunately, radical resection may cause large abdominal defects and hinder reconstruction. Several reports and recommendations have addressed this issue; however, to the best of our knowledge, few reports have described complete resection and the subsequent reconstruction of the rectus abdominis muscle.
Case presentation
A 35-year-old Asian woman presented at our hospital with a chief complaint of abdominal pain. She had abdominal desmoid tumors that required complete resection of her rectus abdominis muscle. Due to necrosis in her own reconstructed tissue, we failed to cover her anterior abdominal wall; thus, we used an abdominal binder as a substitute material to avoid exacerbating the incisional hernia and help her generate intra-abdominal pressure.
Conclusions
This case report may be informative and helpful for the treatment of patients with desmoid tumors, as managing desmoid-type fibromatosis is difficult.