01.12.2014 | Original Article | Ausgabe 4/2014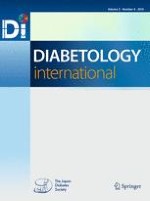 Constructing the National Center Diabetes Database
Zeitschrift:
Autoren:

Ritsuko Yamamoto-Honda, Yoshihiko Takahashi, Shigeo Yamashita, Yasumichi Mori, Hidekatsu Yanai, Shuichi Mishima, Hiroshi Kajio, Nobuhiro Handa, Kotaro Shimokawa, Akiko Yoshida, Hiroji Kitazato, Takuro Shimbo, Shoji Kawazu, Mitsuhiko Noda
Wichtige Hinweise
R. Yamamoto-Honda and Y. Takahashi contributed equally to this work.
Abstract
We set up the National Center Diabetes Database with financial support from the National Center for Global Health and Medicine and from the Ministry of Health, Labour and Welfare of Japan. In this report, we describe the structure of this database and present the results of the registry based on the use of this database. Medical records of patients diagnosed as having diabetes and who were visiting either of the two clinics or six hospitals in Japan were registered. In the present report, 8,130 records (5,738 men and 2,392 women) obtained between 2005 and 2010 were analyzed. The demographics of this registry clarified that (1) the population of diabetic patients is becoming older (the average age of diabetic men, 62.1 years old; that of women, 66.7 years old); (2) fewer women patients are diagnosed through health checkups as having diabetes than men patients; (3) ever-smokers are more frequently observed in diabetic patients than in the general population in men aged over 60 and in women aged over 40; (4) 72 % of type 2 diabetic patients become overweight at least once in their life. Men who smoked and men who drank alcohol more than 4 days per week were more frequently observed in type 2 diabetes patients who had never been obese than in those who had been obese at least once. The data obtained from a large number of patients registered at a combination of hospitals and clinics might provide reports accurately reflecting the present status of diabetes in Japan.