01.12.2018 | Case report | Ausgabe 1/2018 Open Access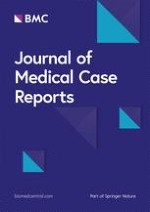 Continuous infusion of lipo-prostaglandin E1 for Takayasu's arteritis with heart failure in an 11-month-old baby: a case report
Zeitschrift:
Autoren:

Ryo Higaki, Aya Miyazaki, Yujiro Tajiri, Mikihito Shoji, Shun Saito, Shin-ichiro Yoshimura, Naoki Miki, Kazuhiro Hatta, Hiraku Doi
Abstract
Background
Takayasu's arteritis is extremely rare in children aged below 6 years. At the onset of Takayasu's arteritis in children, symptoms are varied but differ from those in adults. Corticosteroids are the mainstay of treatment for preventing irreversible vascular damage but there is no standard treatment for progressive vascular stenosis.
Case presentation
A Japanese 11-month-old baby boy presented with Takayasu's arteritis and heart failure, possibly due to afterload mismatch caused by high blood pressure. Computed tomography was performed and revealed thoracic and abdominal aortic aneurysms. It also revealed severe celiac artery stenosis and bilateral renal artery stenosis. Prednisolone was initiated as first-line therapy. The fever resolved, and C-reactive protein levels returned to normal. Although his general condition improved, deterioration of vascular lesions was evident. Celiac artery occlusion, severe right renal artery stenosis, and new superior mesenteric artery stenosis were observed. We decided to use a continuous infusion of lipo-prostaglandin E1 for prevention of branch stenosis of his abdominal aorta. The progression of vascular stenosis was stopped and our patient's cardiac function gradually improved.
Conclusions
A differential diagnosis of heart failure with high blood pressure should be considered in babies. The progression of vascular stenosis may be suppressed by lipo-prostaglandin E1.