10.06.2020 | COVID-19 | SPORTS TRAUMATOLOGY | Ausgabe 7/2020 Zur Zeit gratis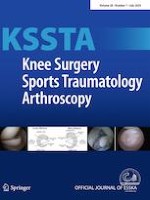 Recommendations of protective measures for orthopedic surgeons during COVID-19 pandemic
Zeitschrift:
Autoren:

Yulong Wang, Lian Zeng, Sheng Yao, Fengzhao Zhu, Chaozong Liu, Anna Di Laura, Johann Henckel, Zengwu Shao, Michael T. Hirschmann, Alister Hart, Xiaodong Guo
Wichtige Hinweise
Yulong Wang and Lian Zeng have contributed equally to this paper, and considered as first co-authors.
Publisher's Note
Springer Nature remains neutral with regard to jurisdictional claims in published maps and institutional affiliations.
Abstract
Purpose
It was the primary purpose of the present systematic review to identify the optimal protection measures during COVID-19 pandemic and provide guidance of protective measures for orthopedic surgeons. The secondary purpose was to report the protection experience of an orthopedic trauma center in Wuhan, China during the pandemic.
Methods
A systematic search of the PubMed, Cochrane, Web of Science, Google Scholar was performed for studies about COVID-19, fracture, trauma, orthopedic, healthcare workers, protection, telemedicine. The appropriate protective measures for orthopedic surgeons and patients were reviewed (on-site first aid, emergency room, operating room, isolation wards, general ward, etc.) during the entire diagnosis and treatment process of traumatic patients.
Results
Eighteen studies were included, and most studies (13/18) emphasized that orthopedic surgeons should pay attention to prevent cross-infection. Only four studies have reported in detail how orthopedic surgeons should be protected during surgery in the operating room. No detailed studies on multidisciplinary cooperation, strict protection, protection training, indications of emergency surgery, first aid on-site and protection in orthopedic wards were found.
Conclusion
Strict protection at every step in the patient pathway is important to reduce the risk of cross-infection. Lessons learnt from our experience provide some recommendations of protective measures during the entire diagnosis and treatment process of traumatic patients and help others to manage orthopedic patients with COVID-19, to reduce the risk of cross-infection between patients and to protect healthcare workers during work.