05.08.2021 | COVID-19 | Case report | Ausgabe 1/2021 Open Access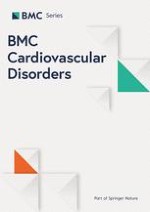 Perimyocarditis following first dose of the mRNA-1273 SARS-CoV-2 (Moderna) vaccine in a healthy young male: a case report
Zeitschrift:
Autoren:

Ammar A. Hasnie, Usman A. Hasnie, Nirav Patel, Muhammad U. Aziz, Min Xie, Steven G. Lloyd, Sumanth D. Prabhu
Wichtige Hinweise
Supplementary Information
This article belongs to the Topical Collection: Primary Prevention and Cardiovascular Risk.
Publisher's Note
Springer Nature remains neutral with regard to jurisdictional claims in published maps and institutional affiliations.
Abbreviations
Cardiac MRI or CMR
Cardiac Magnetic Resonance Imaging
PCR
Polymerase Chain Reaction
LVEF
Left Ventricular Ejection Fraction
LGE
Late Gadolinium Enhancement
ACE2
Angiotensin-Converting Enzyme 2
Background
When patients develop concomitant myocardial and pericardial injury, the clinical presentation can vary widely. The diagnosis of acute pericarditis requires at least two out of four diagnostic criteria including pericardial chest pain, pericardial rub, pericardial effusion, and diffuse ST-segment elevation or PR segment depression on electrocardiogram (ECG). Myocardial involvement can include elevated troponin levels, new ventricular dysfunction, or tissue abnormalities visualized on cardiac magnetic resonance imaging (CMR) [
1
]. When the primary symptoms are related to pericardial inflammation, this is referred to as myopericarditis. Meanwhile, patients can develop a perimyocarditis when significant myocardial injury is appreciated, including regional wall motion abnormalities along with pericardial symptoms as seen in our patient. This manuscript discusses a unique case of a patient who developed perimyocarditis that was temporally related to his first dose of the mRNA 1273 Sars-COV-2 vaccine.
Case presentation
A 22-year-old male patient presented to our medical center with sharp substernal non-radiating chest pain for two days. He initially experienced generalized body aches and a subjective fever shortly after receiving his first dose of the mRNA-1273 (Moderna) vaccine three days prior. He then developed chest pain, at times pleuritic, which continued to worsen, prompting his presentation to the emergency department.
The patient had a mild COVID-19 infection six months prior to presentation. He took no medications or over-the-counter supplements. He denied any significant family history of chronic conditions including cardiovascular disease. He denied any tobacco, alcohol, or recreational drug use.
On initial presentation, his blood pressure was 97/57 mm Hg, heart rate 100 beats/min, respiratory rate 16 breaths/min, and oxygen saturation was 99 % on room air. He was afebrile with a temperature of 98.6° farenheight (38.6
°
celcius). On physical examination, he was tachycardic with a regular rhythm. No murmurs, rubs, or gallops were appreciated on auscultation. No jugular venous distension, tenderness to palpation of the chest wall, or lower extremity edema were noted.
Because of his pleuritic chest pain shortly after vaccination, our leading diagnosis was acute pericarditis. However, we also kept life-threatening causes such as acute coronary syndrome in our differential diagnosis.
His ECG revealed normal sinus rhythm with diffuse ST elevation (Fig.
1
). PR segment depression was discernible in leads V3–V6. High sensitivity troponin was 13,702 ng/L (normal range: 3–20 ng/L). B-type natriuretic peptide level was 48.0 pg/mL (normal range: < 100 pg/mL). His white blood cell count was 8700/cm
3
with a neutrophilic predominance of 83%. A complete metabolic panel was unremarkable. The chest radiograph was unremarkable with no signs of focal consolidation, pneumothorax, or pleural effusion. A viral respiratory panel, HIV screen, and urine drug screen were all negative. Sars-CoV-2 nasopharyngeal polymerase chain reaction (PCR) testing was negative.
×
An echocardiogram revealed low-normal left ventricular ejection fraction (LVEF) of 50–55% with mid to apical anterior and anterolateral segments appearing hypokinetic (Additional file
1
: Video 1).
Left heart catheterization revealed angiographically normal coronary arteries. Left ventricular end-diastolic pressure was 18 mmHg. CMR showed a normal LVEF (58 %) with findings of dyssnchrony of the septal wall (Additional file
2
: Video 2). It also showed subepicardial late gadolinium enhancement (LGE) involving the lateral wall and inferior segments at the midventricular and apical LV. Mild adjacent pericardial LGE was also noted (Fig.
2
a, b). These findings were consistent with perimyocarditis.
×
In the setting of pleuritic chest pain and anatomic pericardial involvement, the patient was treated with aspirin 650 mg three times per day and colchicine 0.6 mg twice per day. The patient was started on low dose metoprolol for myocardial protection after wall motion abnormalities were verified on CMR. His heart rate improved to a range of 70–80 beats per minute, troponin downtrended (Fig.
3
), and there was complete resolution of his symptoms during the hospital stay.
×
Given the development of perimyocarditis after the first dose of the Moderna COVID-19 vaccine, we discussed the risks and benefits of receiving the 2nd dose of the vaccine. After careful consideration the patient elected to forego the 2nd dose of the vaccine. He was discharged with plans to complete a two week course of aspirin, three months of colchicine, and metoprolol. He was instructed to avoid alcohol intake and significant physical exertion for three to six months and to obtain cardiac clearance prior to returning to strenuous physical activity.
He was seen one month following discharge with continued resolution of his symptoms. A repeat cardiac MRI was performed which showed improved subepicardial and adjacent pericardial delayed enhancement in the mid and distal left ventricle (Fig.
4
a, b). It also showed resolution of the previously noted dyssnchrony suggestive of improving perimyocarditis.
×
Discussion
Conclusions
This case highlights a rare adverse event of perimyocarditis with the Moderna vaccine against SARS-CoV-2. While our knowledge of COVID-19 mRNA vaccine-related cardiovascular injury is limited, clinicians should be aware of this possibility. A registry of cardiovascular-related complications will be of benefit to define the incidence of SARS-CoV-2 vaccine-associated cardiovascular adverse events. This case raises an important question on further management for patients who experienced acute myocarditis following the first dose of the COVID-19 vaccination in regard to subsequent booster vaccinations and requires further investigation.
Acknowledgements
Not applicable.
Declarations
Authorship
All authors had full access to the data when designing and drafting the manuscript.
Ethics approval and consent to participate
Not applicable.
Consent for publication
Written informed consent was obtained from the patient for publication of this case report and any accompanying images. A copy of the written consent is available for review by the Editor of this journal.
Competing interests
The authors declare that they have no competing interests.
Open Access
This article is licensed under a Creative Commons Attribution 4.0 International License, which permits use, sharing, adaptation, distribution and reproduction in any medium or format, as long as you give appropriate credit to the original author(s) and the source, provide a link to the Creative Commons licence, and indicate if changes were made. The images or other third party material in this article are included in the article's Creative Commons licence, unless indicated otherwise in a credit line to the material. If material is not included in the article's Creative Commons licence and your intended use is not permitted by statutory regulation or exceeds the permitted use, you will need to obtain permission directly from the copyright holder. To view a copy of this licence, visit
http://​creativecommons.​org/​licenses/​by/​4.​0/​
. The Creative Commons Public Domain Dedication waiver (
http://​creativecommons.​org/​publicdomain/​zero/​1.​0/​
) applies to the data made available in this article, unless otherwise stated in a credit line to the data.
Supplementary Information
Additional file 1: Video 1
. Initial echocardiogram showing mild hypokinesis of the mid to apical anterior and anterolateral segments.
Additional file 2: Video 2
. Cardiac MRI completed on hospital day 2 showing areas of hypokinesis and dssynchrony in distal septum and of the RV. Sequence details: SSFP technique #phase 20; flip angle 45°, slice thickness 8 mm, FOV 40 cm, TR-3.7 ms, TE-1.5 ms.
Publisher's Note
Springer Nature remains neutral with regard to jurisdictional claims in published maps and institutional affiliations.