09.07.2021 | COVID-19 | Observational Research | Ausgabe 9/2021 Zur Zeit gratis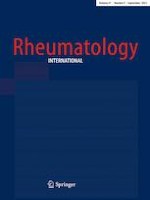 Rheumatology university faculty opinion on coronavirus disease-19 (COVID-19) vaccines: the vaXurvey study from Egypt
Zeitschrift:
Autoren:

Nevin Hammam, Samar Tharwat, Rawhya R. El Shereef, Ahmed M. Elsaman, Noha M. Khalil, Hanan M. Fathi, Mohamed N. Salem, Hanan M. El-Saadany, Nermeen Samy, Amany S. El-Bahnasawy, Yousra H. Abdel-Fattah, Marwa A. Amer, Emad ElShebini, Amira T. El-Shanawany, Dina H. El-Hammady, Rasha Abdel Noor, Marwa ElKhalifa, Faten Ismail, Rasha M. Fawzy, Amany R. El-Najjar, Zahraa I. Selim, Nouran M. Abaza, Ahmed R. Radwan, Mervat IAbd Elazeem, Wael Abdel Mohsen, Abdel Hafeez Moshrif, Eman F. Mohamed, Loay I. Aglan, Soha Senara, Maha E. Ibrahim, Iman Khalifa, Rasha El Owaidy, Noha El. Fakharany, Reem Hamdy A. Mohammed, Tamer A. Gheita, on behalf of the Egyptian College of Rheumatology (ECR) COVID-19 Study Group
Wichtige Hinweise
Supplementary Information
Publisher's Note
Springer Nature remains neutral with regard to jurisdictional claims in published maps and institutional affiliations.
Abstract
Objectives
The aim of the present work was to explore the perspectives of Egyptian Rheumatology staff members as regards the coronavirus disease-19 (COVID-19) vaccine.
Methods
The survey is composed of 25 questions. Some questions were adapted from the global rheumatology alliance COVID-19 survey for patients.
Results
187 rheumatology staff members across Egypt from 18 universities and authorizations actively participated with a valid response. The mean time needed to complete the survey was 17.7 ± 13 min. Participants were 159 (85%) females (F:M 5.7:1). One-third agreed that they will be vaccinated once available, 24.6% have already received at least one dose, 29.4% are unsure while 16% will not take it. Furthermore, 70.1% agreed that they will recommend it to the rheumatic diseases (RD) patients once available, 24.1% are not sure while 5.9% will not recommend it. RD priority to be vaccinated against COVID-19 in descending order include SLE (82.9%), RA (55.1%), vasculitis (51.3%), systemic sclerosis (39.6%), MCTD (31.6%), Behcet's disease (28.3%). The most common drugs to be avoided before vaccination included biologics (71.7%), DMARDs (44.4%), biosimilars (26.7%), IVIg (17.1%) and NSAIDs (9.1%).
Conclusions
The results of the study and specifically the low rate of acceptability are alarming to Egyptian health authorities and should stir further interventions to reduce the levels of vaccine hesitancy. As rheumatic disease patients in Egypt were not systematically provided with the vaccine till present, making the vaccine available could as well enhance vaccine acceptance. Further studies to investigate any possible side effects, on a large scale of RD patients are warranted.