21.12.2017 | Original Article | Ausgabe 4/2018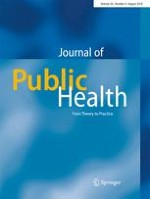 Descriptive self-reporting survey of people with idiopathic environmental intolerance attributed to electromagnetic fields (IEI-EMF): similarities and comparisons with previous studies
Zeitschrift:
Autoren:

Soafara Andrianome, René De Seze, Anne Braun, Brahim Selmaoui
Wichtige Hinweise
The original version of this article was revised: Due to the existence of another journal with the same name, the Publisher has added a subtitle, "From Theory to Practice." Effective as of January 2018, the new title of this Journal is
Journal of Public Health: From Theory to Practice
.
Abstract
Context
In France, cases of people self-reporting symptoms due to electromagnetic fields (EMF) or idiopathic environmental intolerance attributed to electromagnetic fields (IEI-EMF) have emerged over the past 10 years. Several self-help and action groups have claimed an increasing number of members. However, little is known about this population in France.
Aim
Our primary objective was to describe the reported symptoms and the sources that may induce these symptoms through a questionnaire-based study. Secondly, we discussed our results alongside those obtained from the existing literature and provide an overview of this physical condition.
Subjects and methods
From April to November 2014, a self-questionnaire survey was conducted in France. With 52 participants, the average age of respondents was 50 ± 11 years and the majority of participants at 79% were women.
Results
Our study results in the French population were consistent with findings in the literature conducted in other countries and also highlighted a number of emerging EMF sources such as wireless area networks, to be perceived as possible causes of symptoms.
Conclusions
Despite methodological differences, we summarized facts from previous comparable investigations. We also provided an overview of people claiming EMF effects and briefly discussed possible avenues of research.