25.05.2019 | Original Article | Ausgabe 1/2020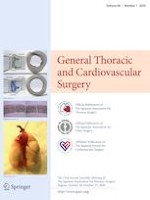 Early outcomes of transcatheter mitral valve replacement for degenerated bioprosthesis in Japanese (MITRAL VIV study): a four-case series
Zeitschrift:
Autoren:

Kizuku Yamashita, Satsuki Fukushima, Yusuke Shimahara, Atsushi Okada, Makoto Amaki, Hideaki Kanzaki, Chisato Izumi, Satoshi Yasuda, Junjiro Kobayashi, Tomoyuki Fujita
Wichtige Hinweise
Electronic supplementary material
Publisher's Note
Springer Nature remains neutral with regard to jurisdictional claims in published maps and institutional affiliations.
Abstract
Objective
The mitral valve-in-valve procedure has been performed in the world. However, the early clinical outcomes in Japan remain unclear. Hence, we investigated the feasibility, safety, and efficacy in high-risk Japanese patients.
Methods
In May 2017, we launched the present clinical study of the mitral valve-in-valve procedure (MITRAL VIV study). The study enrolled four patients (three women; age range 69–85 years) with severe mitral regurgitation due to a degenerated mitral bioprosthesis. The median Society of Thoracic Surgeons score was 8.8 (range 8.4–9.8)%.
Results
In all patients, the mitral valve-in-valve procedure was successfully performed via a transapical approach at the initial attempt. The median grade of mitral insufficiency improved from grade 4 (range 3–4) to grade 1 (range 0–1) at days 7 and 30. The mean mitral pressure gradient of the median value changed from 7.0 (range 5.0–8.0) mmHg to 5.0 (range 5.0–9.5) mmHg at 7 days and 6.2 (range 4.0–11.0) mmHg at 30 days. The median New York Heart Association functional class improved from 2 (range 2–3) to 1 (range 1–3) at day 7 and to 1 (range 1–2) at day 30. We performed a bit deep implantation intentionally to avoid left ventricular outflow tract obstruction in one patient with a small aorto-mitral-annular angle. Neither mortality nor severe complications were observed at the last follow-up (range 207–513 days).
Conclusions
In our experience, the safe mitral valve-in-valve procedure was feasible with cautious procedures.