11.11.2017 | Original Article – Clinical Oncology | Ausgabe 2/2018 Open Access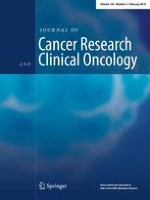 Early recurrence in patients undergoing curative resection of colorectal liver oligometastases: identification of its clinical characteristics, risk factors, and prognosis
Zeitschrift:
Autoren:

Junzhong Lin, Jianhong Peng, Yixin Zhao, Baojia Luo, Yujie Zhao, Yuxiang Deng, Qiaoqi Sui, Yuanhong Gao, Zhifan Zeng, Zhenhai Lu, Zhizhong Pan
Wichtige Hinweise
Junzhong Lin, Jianhong Peng, and Yixin Zhao have contributed equally to this work.
Introduction
Colorectal cancer (CRC) has become a leading cause of cancer-related death both in China and worldwide (Chen et al.
2016
; Torre et al.
2015
). The liver is the most frequent site of metastatic disease. At the time of diagnosis, 20–25% of patients present with synchronous metastases, and approximately half of these patients develop metachronous disease after primary tumor resection (O'Reilly and Poston
2006
; Van Cutsem et al.
2010
). Despite improvements in the comprehensive treatment and management of patients with colorectal liver metastases (CRLM) in recent years, liver resection remains the most effective treatment, offering the possibility of a cure for CRLM patients (Gallinger et al.
2013
; Kanas et al.
2012
). Complete liver resection can achieve long-term survival in 46.0% of patients, with a 5-year survival rate of up to 60% (Chan et al.
2014
; Kulik et al.
2013
). Nevertheless, approximately 60% of patients who first undergo liver resection experience recurrence during follow-up (Chan et al.
2014
; Cucchetti et al.
2015
). Therefore, identification of different risk subgroups based on the severity of metastatic disease and tumor biological aggressiveness will help establish and optimize therapeutic strategies.
The traditional clinicopathologic factors are inadequate to define the underlying biology of CRLM. In the latest version of the European Society for Medical Oncology (ESMO) Consensus Guidelines, the clinical value of oligometastatic disease (OMD) was highlighted, and metastatic CRC was divided into OMD and widespread systemic disease (Van Cutsem et al.
2016
). The concept of OMD emerged 2 decades ago and is typically defined as a state of metastatic disease that is limited in total disease burden, according to the limited number of clinically evident or radiographic sites (Engels et al.
2012
; Van den Begin et al.
2014
). OMD represents a disease state that exists in a transitional zone between localized and widespread systemic diseases, which shows a genuine potential for cure when patients receive complete R0 resection of their metastases (Reyes and Pienta
2015
; Weiser et al.
2013
).
It is well known that disease recurrence after liver resection is common and negatively impacts patient survival (Leung et al.
2016
; Nordlinger et al.
2008
). Early recurrence after liver resection is one of the most important factors for prognosis and quality of life in patients with CRLM. Approximately 10–30% of patients develop early recurrence after liver resection, which is associated with the poorest survival outcome (Imai et al.
2016
; Malik et al.
2007
; Vigano et al.
2014
). To date, few studies have highlighted the clinical implication of early recurrence in colorectal liver oligometastases (CLOM) patients who undergo curative resection. Thus, the aim of this study was to investigate the clinical characteristics, risk factors, and prognoses related to early recurrence after liver resection for patients with CLOM.
Methods
Patients and data collection
A total of 413 consecutive patients with CRLM undergoing liver resection between September 1999 and June 2016 at Sun Yat-sen University Cancer Center were retrospectively reviewed. The inclusion criteria were as follows: (1) histologically confirmed adenocarcinoma; (2) colorectal liver oligometastases (≤ 5 metastases); (3) no preoperative extrahepatic metastases; (4) R0 resection for both primary and metastatic tumors; and (5) a minimum follow-up time of 6 months. We excluded 106 patients based on the following exclusion criteria: preoperative extrahepatic metastasis (
n
= 50); R1 or R2 resection (
n
= 37); loss to follow-up (
n
= 2); and number of colorectal liver metastases > 5 (
n
= 17). In total, 307 eligible patients including 176 (57.3%) patients with postoperative recurrence and 131 (42.7%) patients without postoperative recurrence were attentively reviewed for demographic data as well as the tumor characteristics and treatment patterns using an electronic medical record system. The follow-up results were reviewed in detail from the follow-up system at Sun Yat-sen University Cancer Center. All procedures performed in studies involving human participants were in accordance with the 1964 Declaration of Helsinki and its later amendments or comparable ethical standards. Institutional Review Board approval was also obtained from the independent ethics committee at Sun Yat-sen University Cancer Center. Informed consent was waived for this non-interventional, observational, and retrospective study, in which the patient data used were kept strictly confidential.
Parameter measurements
Primary tumors were staged according to the seventh edition of the UICC-TNM staging system for colorectal cancer. The characteristics of liver metastases, including number, diameter, and distribution, were assessed using enhanced abdominal nuclear magnetic resonance imaging (MRI) at the time of diagnosis. The carcinoembryonic antigen (CEA) and cancer antigen (CA) 199 levels were measured before liver resection. Synchronous metastases were defined as liver metastases diagnosed before colorectal resection or at the time of surgery. The treatment strategy and operability of liver metastases for each patient were determined according to the final agreement of the multidisciplinary team (MDT). Patients considered potentially resectable or at high risk of postoperative recurrence were recommended to receive preoperative chemotherapy first.
After liver resection, patients were monitored through subsequent visits every 3 months for the first 2 years and then semiannually until 5 years. At each clinical review, blood tests were performed for CEA and CA 19-9 levels, along with computed tomography (CT) imaging of the chest, abdomen, and pelvis at 3, 6, 12, and 18 months, 2 years, and annually thereafter. Liver MRI was used to define suspicious lesions indicated on CT or in cases of negative CT results with rising CEA or CA 19-9 levels. The final follow-up visit occurred in June 2017. Overall survival (OS) was defined as the time interval from liver resection to death from any cause or the last follow-up date, while recurrence-free survival (RFS) was defined as the time interval from liver resection to disease recurrence, death from disease, or the last follow-up date. According to the previous data, early recurrence was defined as disease recurrence or death from liver resection within 6 months after liver resection (Jung et al.
2016
; Malik et al.
2007
). Later recurrence was defined as disease recurrence or death from liver resection at least 6 months after liver resection, including middle recurrence (6–24 months after liver resection) and late recurrence (> 24 months after liver resection).
Statistical analysis
The statistical analyses were performed using the IBM SPSS Statistics 21 software (IBM, NY, USA) and Graphpad Prism version 6.01 (GraphPad Software, Inc, USA). Values are presented as the median (range) and percentage. The correlation between clinicopathologic parameters and early recurrence was compared using the Chi-square test or Fisher's exact test as appropriate. Variables that were statistically significant in univariate analysis were further assessed with a logistic regression model for multivariate analysis to identify independent factors associated with early recurrence, and odds ratios (ORs) and 95% confidence intervals (CIs) were subsequently calculated. The OS and RFS rates were estimated with the Kaplan–Meier method, and differences between groups were assessed with the log-rank test. Parameters showing statistical significance for OS in univariate Cox models were further assessed using multivariate Cox models. Hazard ratios (HRs) and 95% CIs were subsequently calculated. All statistical tests used in this study were two-sided, and a
P
value < 0.05 was considered statistically significant.
Results
Discussion
Some limitations of this study should be acknowledged. First, this retrospective study included an uncontrolled methodology and a limited number of patients from a single institution. Therefore, the findings need to be validated in a larger prospective cohort of patients. Second, the short duration of follow-up time was insufficient to evaluate 5-year survival outcomes and exactly determine which patients experienced late disease recurrence. In addition, the impact of chemotherapy on early recurrence was difficult to evaluate in this retrospective study. Moreover, preoperative treatment selectively given to patients with more advanced disease might interfere with its real therapeutic effect. At the same time, the regimen and administration duration of perioperative chemotherapy might be related to the occurrence of early recurrence, which was not analyzed in the current study. Moreover, the data for molecular biomarkers such as KRAS, NRAS, BRAF, and PIK3CA mutations and microsatellite instability (MSI) status were not available for the majority of patients in this study. Thus, future studies should include an evaluation of these molecular biomarkers.
Conclusion
Early recurrence occurred in 16.0% of CLOM patients, even those undergoing curative liver resection, and was identified as the independent predictor of poor prognosis. The risk factors for predicting early recurrence included the presence of a node-positive primary tumor and metastases diameter > 3 cm. Our study results suggest that early recurrence should be investigated in the routine treatment of CLOM patients before liver resection. Detailed preoperative comprehensive measurements might be needed to stratify high-risk patients, and non-surgical treatment for early recurrence might represent an effective alternative.
Acknowledgements
We deeply appreciate the help from all colleagues of the Department of Colorectal Surgery at Sun Yat-sen University Cancer Center, who have involved with performing the treatment for the current study. The authenticity of this article has been validated by uploading the key raw data onto the Research Data Deposit public platform (
http://​www.​researchdata.​org.​cn
), with the approval number as RDDA2017000303.
Compliance with ethical standards
Funding
This work was supported by Grants from the Sun Yat-sen University Clinical Research 5010 Program (2015024), Sun Yat-sen University Clinical Research 5010 Program (2013013), and National Natural Science Foundation of China (Grant no. 81772595). Natural Science Foundation of Guangdong Province (2017A030310204), Medical Scientific Research Foundation of Guangdong Province (A2017545).
Conflicts of interest
The authors declare that they have no conflict of interest.
Ethical approval
All procedures performed in studies involving human participants were in accordance with the ethical standards of the institutional and/or national research committee and with the 1964 Helsinki Declaration and its later amendments or comparable ethical standards. A waiver of informed consent was requested, and approval was obtained from the independent ethics committees at Sun Yat-sen University Cancer Center.
Open Access
This article is distributed under the terms of the Creative Commons Attribution 4.0 International License (
http://​creativecommons.​org/​licenses/​by/​4.​0/​
), which permits unrestricted use, distribution, and reproduction in any medium, provided you give appropriate credit to the original author(s) and the source, provide a link to the Creative Commons license, and indicate if changes were made.