11.11.2019 | Original Article | Ausgabe 12/2019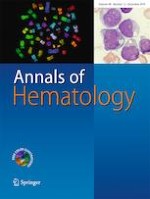 Early risk stratification for diffuse large B-cell lymphoma integrating interim Deauville score and International Prognostic Index
Zeitschrift:
Autoren:

Sung Kyun Yim, Ho-Young Yhim, Yeon-Hee Han, So-Yeon Jeon, Na-Ri Lee, Eun-Kee Song, Hwan-Jeong Jeong, Hee Sun Kim, Jae-Yong Kwak
Wichtige Hinweise
Electronic supplementary material
Sung Kyun Yim, Ho-Young Yhim, and Yeon-Hee Han contributed equally to this work as co-first authors.
This study was presented in part as an abstract for the 60th American Society of Hematology annual meeting, San Diego, CA, Dec 1–4, 2018.
Publisher's note
Springer Nature remains neutral with regard to jurisdictional claims in published maps and institutional affiliations.
Abstract
The aim of this study was to evaluate the prognostic relevance of early risk stratification in diffuse large B-cell lymphoma (DLBCL) using interim Deauville score on positron emission tomography-computed tomography (PET-CT) scan and baseline International Prognostic Index (IPI). This retrospective study included 220 patients (median age, 64 years; men, 60%) diagnosed with DLBCL between 2007 and 2016 at our institution, treated with rituximab-based chemotherapy. Interim PET-CT was performed after three cycles of immuno-chemotherapy. Interim Deauville score was assessed as 4 or 5 in 49 patients (22.3%), and 94 patients (42.7%) had high-intermediate or high-risk IPI scores. In multivariate analysis, interim Deauville score (1–3 and 4–5) and baseline IPI (low/low-intermediate and high-intermediate/high) were independently associated with progression-free survival (for Deauville score, hazard ratio [HR], 1.00
vs.
2.96 [95% confidence interval (CI), 1.83–4.78],
P
< 0.001; for IPI, HR, 1.00
vs.
4.84 [95% CI, 2.84–8.24],
P
< 0.001). We stratified patients into three groups: low-risk (interim Deauville scores 1–3 and low/low-intermediate IPI), intermediate-risk (Deauville scores 1–3 with high-intermediate/high IPI or Deauville scores 4–5 with low/low-intermediate IPI), and high-risk (Deauville scores 4–5 and high-intermediate/high IPI). This early risk stratification showed a strong association with progression-free survival (HR, 1.00
vs.
3.98 [95% CI 2.10–7.54]
vs.
13.97 [95% CI 7.02–27.83],
P
< 0.001). Early risk stratification using interim Deauville score and baseline IPI predicts the risk of disease progression or death in patients with DLBCL. Our results provide guidance with interim PET-driven treatment intensification strategies.