13.12.2018 | Original Article | Ausgabe 1/2019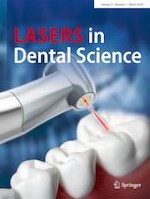 Effects of Er,Cr:YSGG laser and radial firing tips in dye removal from simulated curved canals: visualization study
Zeitschrift:
Autoren:

Ghada Alamoudi, Darya Haidary, Norbert Gutknecht
Abstract
Objective
The aim of this study was to assess the effectiveness of erbium, chromium–doped yttrium scandium gallium garnet (Er,Cr:YSGG) using radial firing tips in dye removal from simulated narrow curved canals (20°).
Material and methods
Sixty polyester resin blocks were mechanically prepared up to ISO 30/0.07 and divided into six groups (
n
= 10). Each resin block was filled with red fuchsine dye. Three different laser settings [15 mJ and 50 Hz, 20 mJ and 50 Hz, and 16 mJ and 75 Hz] were used under two conditions of radial firing tip withdraw movements (pulling or circular). Radial firing tip was initially kept stationary 4 mm shorter than full working length and activated for 3 s. Irradiation was continued in an apical to coronal direction, withdrawing at a speed of 2 mm s
−1
, either with circular or straight pulling movements. Four irradiation cycles were performed in each sample. Irrigation with saline solution (NaCl) was performed between each laser irradiation. Standardized pictures were taken after laser irradiation, and a computerized calculation of the pixel intensity for the remaining dye in the apical region was made.
Results
Dye removal
results
showed no significant differences (
P
 > 0.05) between pulling and circular movements. With regard to output settings, and regardless of the movements, 20 mJ and 50 Hz showed a significantly better performance (
P
 < 0.05) in dye removal than 15 mJ and 50 Hz and 16 mJ and 75 Hz.
Conclusion
Er,Cr:YSGG laser and radial firing tip working at 20 mJ and 50 Hz were the most efficient methods of removing red dye from the apical region of simulated narrow curved canals. The difference between irradiation protocols (fiber movements) was statistically negligible.