22.12.2016 | Clinical trial | Ausgabe 3/2017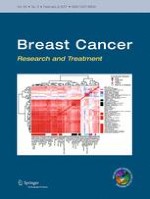 Efficacy and safety of low-dose capecitabine plus docetaxel versus single-agent docetaxel in patients with anthracycline-pretreated HER2-negative metastatic breast cancer: results from the randomized phase III JO21095 trial
Zeitschrift:
Autoren:

Daigo Yamamoto, Nobuaki Sato, Yoshiaki Rai, Yutaka Yamamoto, Mitsue Saito, Hiroji Iwata, Norikazu Masuda, Shoji Oura, Junichiro Watanabe, Satoshi Hattori, Yoshimasa Matsuura, Katsumasa Kuroi
Abstract
Purpose
The randomized phase III JO21095 trial compared the efficacy and safety of low-dose capecitabine plus docetaxel combination therapy (XT) versus single-agent administration of docetaxel in anthracycline-pretreated HER2-negative metastatic breast cancer.
Methods
Patients were randomized to either low-dose XT (capecitabine 825 mg/m2 twice daily, days 1–14; docetaxel 60 mg/m2, day 1 every 3 weeks) or docetaxel (70 mg/m2, day 1 every 3 weeks). The primary objective was to demonstrate superior progression-free survival (PFS) with low-dose XT versus single-agent docetaxel. Overall survival (OS) and safety were secondary endpoints.
Results
In total, 162 patients were treated. Median PFS was 10.5 months with low-dose XT and 9.8 months with single-agent docetaxel (hazard ratio [HR] 0.62 [95% confidence interval (CI) 0.40–0.97];
p
= 0.03). The OS HR was 0.89 (95% CI 0.52–1.53;
p
= 0.68). Grade ≥3 treatment-related toxicities occurred in 74% of XT-treated patients and 76% of docetaxel-treated patients. The main differences in grade ≥3 treatment-related toxicities were hand-foot syndrome (7.3% of XT-treated patients vs 0% receiving docetaxel), fatigue/malaise (2.4 vs 10.0%), and peripheral edema (1.2 vs 7.5%). Dose modifications were required in 100% of low-dose XT and 49% of docetaxel patients. Toxicity-related treatment discontinuations occurred in 18 and 33%, respectively.
Conclusion
The improved PFS with low-dose XT versus docetaxel alone is consistent with higher-dose XT phase III experience, but the safety profile was more favorable and manageable.