02.11.2015 | Original Article | Ausgabe 4/2016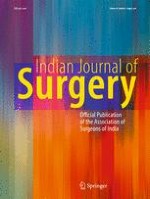 Enucleation is Better for a Giant Hemangioma Proximal to the Hepatic Portal Vascular Structures
Zeitschrift:
Autoren:

Chuan-Xing Wu, Wan-Yuan Bao, Feng Zhu
Abstract
The aim of this study is to compare the effect of liver enucleation with resection of a giant hemangioma proximal to the hepatic portal vascular structures. From 2008 to 2014, 53 patients with giant hemangiomas proximal to the hepatic portal vascular structures underwent surgery in our hospital by the same surgical team. The indications for surgery included a tumor size greater than 8 cm, a middle size greater than 4 cm but with abdominal pain, a rapidly increased tumor size with uncertain malignancy, or tumor rupture. Thirty-two patients (60 %) had pain only, 15 (29 %) had pain with tumor growth, 5 patients (9 %) had an uncertain diagnosis, and 1 patient (2 %) had tumor rupture. Enucleation was performed in 31 patients and liver resection was performed in 22 patients. There were no significant differences in the size of the hemangioma (13.9 ± 3.1 vs 12.3 ± 5.5 cm;
P
 > 0.05), preoperative liver function tests, hemoglobin levels, and platelet counts between the enucleation and resection groups. The mean intraoperative blood loss was significantly less in the enucleation group compared with the resection group (350.9 ± 89.8 vs 988 ± 91.7 mL;
P
 < 0.01), and the enucleation group had a significantly shorter mean operative time (1.7 ± 0.4 vs 2.9 ± 0.9 h;
P
 < 0.01) and significantly shorter duration of hospital stay (9.6 ± 4.2 vs 14.7 ± 3.7 days;
P
 < 0.05). Five patients in the resection group and only 1 patient in the enucleation group had major postoperative complications. Compared to liver resection, enucleation is safer and faster for liver hemangiomas proximal to the hepatic portal vascular structures and is associated with fewer complications.