01.12.2018 | Research article | Ausgabe 1/2018 Open Access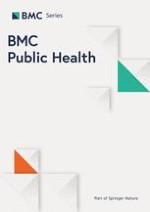 Epidemiology of Humanpapilloma virus infection among women in Fujian, China
Zeitschrift:
Autoren:

Conglian Wu, Xianjin Zhu, Yanli Kang, Yinping Cao, Pingxia Lu, Wenjuan Zhou, Hong Zhou, Yang Zhang, Yanfang Song
Abstract
Background
Human papillomavirus (HPV) infection is the main etiological factor for the development of cervical cancer. Here we assessed the prevalence and distribution of HPV genotypes in Fujian population.
Methods
A total of 8678 women aging from 17 to 84 years olds were recruited from the Fujian Medical University Union Hospital in Fujian Province. Every woman had a face-to-face interview. Cervical samples were collected from each participant and HPV screening was conducted using microarray hybridization.
Results
Our study showed that the HPV prevalence in Fujian province was 38.3%. Among the positive individuals, 70.6% were detected for single HPV infection, 29.4% for multiple HPV infections. Further analysis showed that the prevalence of HPV infection significantly increased from 2009 to 2015. The four most common high risk human papillomavirus (HR-HPV) genotypes were HPV16 (8.5%), HPV52 (7.9%), HPV58 (6.2%), HPV 53 (3.5%), collectively accounting for 60.5% of all detected HPV infection. Age subgroup analysis showed two peaks for the frequencies of overall and multiple HPV infections, one for the group of women under 25 years old, and the other for the group over 55 years old.
Conclusions
HPV infection is becoming serious in Fujian province, which indicates the imperative to implement a HPV vaccination and screening program for this region.