01.07.2020 | Annual issue paper | Ausgabe 10/2020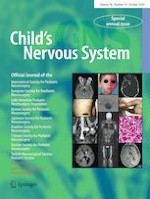 Epilepsy in NF1: a systematic review of the literature
Zeitschrift:
Autoren:

Pia Bernardo, Giuseppe Cinalli, Claudia Santoro
Wichtige Hinweise
Electronic supplementary material
Publisher's note
Springer Nature remains neutral with regard to jurisdictional claims in published maps and institutional affiliations.
Abstract
Epilepsy is one of the possible neurological manifestations of the neurofibromatosis type 1 (NF1) that represents the most common neurocutaneous disorder. We performed a systematic review of the literature on epilepsy associated with NF1 since 1995 in order to better define prevalence and describe type and causes of seizures. Data on type, nature of studies, number of patients, gender, and inheritance of NF1 were recorded as well as data on causes, type, EEGs, brain imaging, intellectual disability (ID), surgical treatment, and outcome of epilepsy. We identified a total of 141 references through the literature search of Pubmed and Embase. After screening, 42 records were identified, including 11617 individuals with NF1 (53% of males). Overall prevalence was estimated at 5.4% lifelong with values that seemed to be slightly lower in children, 3.7% (
p
0.0016). Neither gender differences nor correlation with NF1 inheritance was found. Focal with or without bilateral tonic-clonic seizures were the most common seizure type encountered (60.9%). Structural causes were identified in half of cases (114/226). Low-grade gliomas were the most frequent associated lesions followed by mesial temporal sclerosis, malformation of cortical development, dysembryoplastic neuroepithelial tumor, and cerebrovascular lesions. In these cases, the surgical approach improved the epileptic outcome. Prevalence of epilepsy is higher in subjects with NF1 respect of the general population, with values apparently significantly lower in pediatric age. Brain tumors and cytoarchitectural abnormalities are the most frequent causes of epilepsy in this population, although many other brain complications should be taken in account.