04.01.2021 | Review Article | Ausgabe 3/2021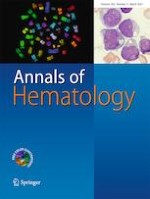 Erythrocyte microRNAs: a tiny magic bullet with great potential for sickle cell disease therapy
Zeitschrift:
Autoren:

Henu Kumar Verma, Yashwant Kumar Ratre, L. V. K. S. Bhaskar, Raffaella Colombatti
Wichtige Hinweise
Henu Kumar Verma and Yashwant Kumar Ratre contributed equally to this work.
Highlights
• Micro-RNA (miRNA) is involved in the epigenetic regulation of sickle cell disease.
• Up- and downregulation of several miRNAs in red blood cells can be a potential biomarker for diseases.
• We summarized the evidence of human miRNAs as a new, effective tool for re-activation of the
γ
-globin gene and fetal Hb induction.
• Molecular mechanisms that underlie the positive association of miRNAs with sickle cell disease.
Publisher's note
Springer Nature remains neutral with regard to jurisdictional claims in published maps and institutional affiliations.
Abstract
Sickle cell disease (SCD) is a severe hereditary blood disorder caused by a mutation of the beta-globin gene, which results in a substantial reduction in life expectancy. Many studies are focused on various novel therapeutic strategies that include re-activation of the
γ
-globin gene. Among them, expression therapy caused by the fetal hemoglobin (HbF) at a later age is highly successful. The induction of HbF is one of the dominant genetic modulators of the hematological and clinical characteristics of SCD. In fact, HbF compensates for the abnormal beta chain and has an ameliorant effect on clinical complications. Erythropoiesis is a multi-step process that involves the proliferation and differentiation of a small population of hematopoietic stem cells and is affected by several factors, including signaling pathways, transcription factors, and small non-coding RNAs (miRNAs). miRNAs play a regulatory role through complex networks that control several epigenetic mechanisms as well as the post-transcriptional regulation of multiple genes. In this review, we briefly describe the current understanding of interactions between miRNAs, their molecular targets, and their regulatory effects in HbF induction in SCD.