01.12.2018 | Case report | Ausgabe 1/2018 Open Access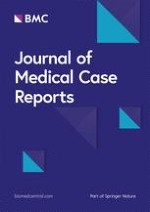 Esophageal pulmonary fistula – a rare complication of radiation therapy: a case report
Zeitschrift:
Autoren:

Laetitia Buemi, Salvatore Stefanelli, Philippe Bichard, Mickaël Luscher, Minerva Becker
Abstract
Background
Esophageal respiratory fistulae are abnormal communications between the esophagus and the respiratory system. They are either congenital or acquired. Most acquired esophageal respiratory fistulae are of the esophageal tracheal and esophageal bronchial type and are caused by infections or malignant neoplasms, whereas esophageal pulmonary fistulae are rare.
Case presentation
We report a case of a 72-year-old Caucasian man with squamous cell carcinoma of the lung presenting with abrupt-onset dyspnea during localized mediastinal radiotherapy. His laboratory test results suggested major respiratory infection. A chest x-ray revealed left apical lung radiopacity along with excavated lesions, consistent with secondary tumor infection. No clinical improvement was observed despite antibiotic treatment. A contrast-enhanced computed tomographic scan of the chest confirmed persistent lung infection with unfavorable progression and air in the mediastinum; the latter suggested a fistula from the upper third of the esophagus to the upper left pulmonary lobe. Videofluoroscopy confirmed the diagnosis of an acquired esophageal pulmonary fistula. The patient underwent endoscopy, and an esophageal self-expandable metallic stent was deployed.
Conclusions
Esophageal pulmonary fistulae must be suspected whenever patients undergoing local mediastinal radiotherapy present with acute pulmonary complications, particularly pneumonia resistant to antibiotic treatment. Esophageal pulmonary fistulae are diagnosed by means of radiological imaging. Because esophageal respiratory fistulae are acute life-threatening conditions, prompt treatment with an endoscopically placed covered stent proves vital.