01.12.2018 | Research | Ausgabe 1/2018 Open Access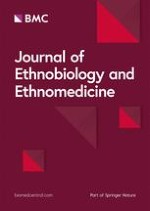 Ethnobotanical investigation on medicinal plants in Algoz area (South Kordofan), Sudan
Zeitschrift:
Autoren:

Tahani Osman Issa, Yahya Sulieman Mohamed, Sakina Yagi, Reem Hassan Ahmed, Telal Mohammed Najeeb, Abdelrafie Mohamed Makhawi, Tarig Osman Khider
Abstract
Background
The inhabitants of western Sudan use traditional medicine for the treatment of various ailments due to lack of medical doctors and unaffordable prices of pharmaceutical products. The present study is the first documentation of the traditional plant knowledge on medicinal uses of plants by healers in Algoz (South Kordofan), Sudan.
Method
Ethnobotanical data were collected over a period from March to November 2015 using semi-structured interviews with 30 healers (24 male and 6 female) living in the investigated area. Quantitative indices such as use categories, use value (UV) and informant consensus factor (ICF) were intended to evaluate the importance of medicinal plant species.
Results
A total of 94 medicinal plants, which belong to 45 families and 81 genera, were recorded in the study area. The most represented families are Leguminosae with 20 species followed by Combretaceae (6 species), Rubiaceae (5 species) and Asteraceae (4 species). The reported species were belonging to herbs (43%), trees (28%), shrubs (22%), climbers (4%) and parasites (3%). Root and stem (21% each) were the most plant parts used. A majority of remedies are administered orally (67%) where infusion (36%) and maceration (32%) are the most used methods. The highest ICF (0.87) was reported for poisonous animal bites followed by urinary system diseases (0.89), blood system disorders (0.88) and gynaecological diseases (0.87).
Anastatica hierochuntica
,
Ctenolepis cerasiformis
,
Echinops longifolius
,
Cleome gynandra
,
Maerua pseudopetalosa
,
Martynia annua
,
Oldenlandia uniflora
,
Opuntia ficus-indica
,
Solanum dubium
,
Sonchus cornutus
,
Tribulus terrestris
and
Drimia maritima
were reported for the first time in this study.
Conclusion
The number of medicinal plants reported in this paper reflects evidence that Algoz area had a high diversity of medicinal plants which will continue to play an important role in the healthcare system in the study area.