01.09.2009 | Glaucoma | Ausgabe 9/2009 Open Access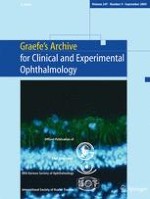 Evaluation of risk of falls and orthostatic hypotension in older, long-term topical beta-blocker users
Autoren:

Wishal D. Ramdas, Nathalie van der Velde, Tischa J. M. van der Cammen, Roger C. W. Wolfs
Wichtige Hinweise
The authors have full control of all primary data, and agree to allow Graefe's Archive for Clinical and Experimental Ophthalmology to review the data upon request.
No conflicting relationship exists for any author.
Introduction
Methods
This cross-sectional study was performed at the outpatient clinic of the Department of Ophthalmology of the Erasmus University Medical Center, Rotterdam, the Netherlands. The Medical Ethics Committee of the Erasmus University Medical Center approved the study.
Study participants and methods
The inclusion criteria were: age 60 years or older, diagnosis of ocular hypertension or open-angle glaucoma, use of topical treatment to lower intraocular pressure for at least 1 year, and most recent visit within the past year. Eligible topical medication was defined as beta-blockers, prostaglandin analogs or combination products with at least one of the two aforementioned components. Single use of all other topical medication for lowering intraocular pressure was excluded, because of the very low numbers of patients and possible systemic side-effects like dizziness and systemic hypotension [
5
,
6
].
Subjects fulfilling the inclusion criteria were sent an information letter by post. One week later, we contacted them by phone to give further information. If the patient so wished, an appointment was made for a regular visit to our outpatient clinic, for an assessment. The assessment consisted of a structured interview, including questions regarding frequency and probable causes of falling in the last 12 months, and an inventory of all current medication.
Physical examination consisted of blood pressure and pulse rate measurements after 10 minutes in a supine position. Next, the patient was asked to stand up so we could measure the blood pressure and pulse rate in an upright position after 1, 2, 3 and 5 minutes.
Outcome definition
Two separate outcomes were defined, a positive history of falling, and the presence of orthostatic hypotension respectively. Fall incidents were defined as coming to rest unintentionally on the ground or a lower level with or without losing consciousness [
20
]. A positive falls history was defined as occurrence of a fall incident within the past 12 months.
Orthostatic hypotension was defined as a decrease of 20 mmHg in systolic and/or 10 mmHg in diastolic blood pressure on standing [
21
]. Blood pressure and pulse rate were measured with a Datascope Accutorr Plus NIBP with Trend Screen (Datascope Corp., USA). This device has demonstrated acceptable accuracy and precision for measuring blood pressure [
22
,
23
].
Statistical analysis
We created three groups of patients: a group on eye drops with beta-blocker (without prostaglandin), a group on combination therapy (with prostaglandin) and, as the reference group, the group on prostaglandins. In the analyses, we combined the beta-blocker and the combination group as one group of beta-blocker users. Baseline differences between the subgroups were tested using an independent
t
-test and a chi-square test.
We analyzed the association of falling and the use of beta-blocker eye drops using a binary logistic regression model, and calculated odds ratios with corresponding 95% confidence intervals, which can be interpreted as estimators of relative risks. The results were adjusted for age, gender and number of fall-risk-increasing drugs (FRID). FRID included psychotropic drugs (sedatives, antidepressants, neuroleptics), cardiovascular drugs [antihypertensives (including oral beta-blockers), nitrates, anti-arrhytmics] and analgesics, hypoglycemics and urinary antispasmodics [
14
].
For differences in blood pressure and pulse rate between the mentioned groups we used the Student's
t
-test. Analyses were performed using SPSS (Statistical Package for the Social Sciences) 15.0.0 (SPSS Inc., Chicago, IL, USA; 2006).
Results
Of the 286 eligible subjects, 148 agreed and were able to participate in the time-frame of our study (mean age 73.7 years, range 61–91 years). The other 138 patients could either not be contacted (
N
 = 56), or were unable to participate for several reasons: too difficult to get to the clinic (
N
 = 27), illness (
N
 = 17), poor command of the Dutch language (
N
 = 5), unknown (
N
 = 13), other reasons (
N
 = 20). The non-responders were on average 3 years older (
p
 = 0.002 adjusted for gender).
The patients' general characteristics are shown in Table
1
. The mean duration of usage of topical ophthalmic medication without changes in prescription was 2.87 years (range 1–13 years). Figure
1
shows the type and percentages of topical medications in our study.
Table 1
General characteristics of participants (
N
 = 148 ophthalmology outpatients)
Prostaglandin

Beta-blocker

Combination

Total

% (s.d.)

% (s.d.)

% (s.d.)

%

Responders

63

42.6%

36

24.3%

49

33.1%

148

100.0%

0.07

22

34.9%

25

69.4%

26

53.1%

73

49.3%

<0.01

Mean age

75.4

(6.79)

72.1

(7.26)

72.5

(6.64)

73.7

(6.98)

0.01

Mean Body Mass Index

25.5

(4.2)

26.2

(3.0)

26.3

(4.1)

25.9

(3.92)

0.22

Mean medication usage*

5.6

(3.8)

4.5

(3.0)

4.9

(2.6)

5.1

(3.3)

0.12

Mean nr. of FRID

2.3

(2.5)

1.7

(1.6)

1.9

(2.1)

2.0

(2.2)

0.20

N

using oral beta-blocker

19

27.8%

10

30.2%

12

24.5%

41

27.7%

0.57

28

44.4%

18

50.0%

9

18.4%

55

37.2%

0.11

Visual acuity***

0.7

(0.3)

0.8

(0.3)

0.7

(0.3)

0.7

(0.3)

0.63

Negative mean deviation***

6.0

(6.4)

5.3

(6.2)

10.3

(8.0)

7.2

(7.2)

0.13

Non-responders

45

32.6%

24

17.4%

69

50.0%

138

100.0%

<0.01

29

64.4%

14

58.3%

43

62.3%

86

62.3%

0.72

Mean age

76.0

(8.30)

75.9

(8.48)

77.4

(7.82)

76.7

(8.06)

0.52
×
Of the 148 subjects, 41 (27.7%) reported at least one fall in the past year. Of those, 19 (12.8%) were multiple fallers, of whom nine used beta-blocker eye drops. Prevalence of falling was not significantly different between men and women [odds ratio (OR) for females 1.39; 95% confidence interval (CI): 0.664–2.909 compared to males; adjusted for age and number of FRID].
Mean number of prescribed drugs used by subjects, including injections (insulin, vitamin B-12) and eye drops, was 5.09 (range 1–16). The risk of a positive falls history did not increase with the number of different medications used. Mean number of FRID use was 2.02 (range 0–12). We found a significant higher risk of falling for the number of FRIDs (OR 1.20; 95% CI: 1.017–1.407 adjusted for age and gender), but not specifically for the ophthalmic medication under study.
The results on risk of falling and complaints of dizziness on beta-blocker eye drops are displayed in Table
2
. There were no statistically significant differences between the groups for falls or dizziness, suggesting that there is no higher risk of falling or dizziness with long-term use of topical beta-blockers. As falling seems related to visual field status, we added visual field data (mean deviation) to the model, but that did not statistically significantly change the risk estimate (OR 0.63; 95% CI 0.244–1.605). The risk of falling increased slightly (OR 0.76; 95% CI 0.329–1.740) if we combined the oral beta-blockers and eye drops versus the group without any beta-blocker use ('clean' group). This was not the case for the other two outcomes.
Table 2
History of falling, dizziness and orthostatic hypotension according to use of different topical drugs
%

Crude OR*

95.0% CI*

OR**

95.0% CI**

Falling (1 time or more)

Prostaglandin

21

33.3

1.00

1.00

Beta-blocker use

20

23.5

0.55

0.252–1.202

0.60

0.268–1.327

Dizziness

Prostaglandin

16

25.4

1.00

1.00

Beta-blocker use

26

30.6

1.00

0.448–2.208

1.05

0.469–2.369

Orthostatic Hypotension

Prostaglandin

15

23.8

1.00

1.00

Beta-blocker use

24

28.2

1.56

0.697–3.500

1.67

0.731–3.793
Mean blood pressures were similar in the defined subgroups. The mean systolic and diastolic blood pressure increased significantly (
p
 < 0.001) between 1 and 2 minutes in upright position. Orthostatic hypotension occurred in 39 subjects (26.4%), of whom 15 cases (23.8%) were in the prostaglandin group and 24 cases (28.2%) in the beta-blocker group. We found no significant difference in risk of orthostatic hypotension for beta-blocker use (OR 1.67; 95% CI 0.731–3.793). If we subdivided the beta-blocker group into a beta-blocker [
N
(%) = 12 (33.3%)] and a combination group [
N
(%) = 12(24.5%)], we found an OR of 2.32 (95% CI 0.845–6.345) and of 1.34 (95% CI 0.532–3.382) respectively, compared to the prostaglandin group (both adjusted for age, gender and number of FRID).
Figure
2
shows that the mean pulse rate in the group on beta-blocker eye drops was lower than for the combination group, and both are lower than mean pulse rate for the subjects using only prostaglandin eye drops. The pulse rate increased significantly (
p
 < 0.001) in all subgroups in the period after 10 minutes in supine position to 1 minute in upright position. The increase in the pulse rate at 1 minute of standing was significantly lower (
p
 < 0.05) in the beta-blocker group than in the prostaglandin group. However, we found no significant difference for the other measured time points, neither for the beta-blocker group nor for the group using combination drugs compared to the prostaglandin group. There were eight patients (5.4%) with an irregular pulse rate. Of those, five (7.9%) used a prostaglandin, one (2.8%) a beta-blocker and two (4.1%) combination therapy.
×
Discussion
The results of our study suggest that stable long-term use of beta-blocker eye drops is not associated with an increased risk in falling or dizziness in comparison to the use of prostaglandin eye drops in older patients with ocular hypertension or glaucoma. This is in contrast with other studies, possibly because we studied the long-term users of topical beta-blockers. Furthermore, there may be an increased risk of orthostatic hypotension, although in our study this did not reach statistical significance. However, we did find a significantly lower increase in pulse rate after 1 minute of standing in topical beta-blocker users, which, in daily life, may contribute to fall risk on standing up.
Open Access
This article is distributed under the terms of the Creative Commons Attribution Noncommercial License which permits any noncommercial use, distribution, and reproduction in any medium, provided the original author(s) and source are credited.
Open Access
This is an open access article distributed under the terms of the Creative Commons Attribution Noncommercial License (
https://​creativecommons.​org/​licenses/​by-nc/​2.​0
), which permits any noncommercial use, distribution, and reproduction in any medium, provided the original author(s) and source are credited.