01.12.2017 | Research | Ausgabe 1/2017 Open Access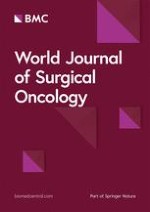 Evaluation of the new TNM-staging system for thymic malignancies: impact on indication and survival
Zeitschrift:
Autoren:

Michael Ried, Maria-Magdalena Eicher, Reiner Neu, Zsolt Sziklavari, Hans-Stefan Hofmann
Abstract
Background
The objective of this study is the evaluation of the Masaoka-Koga and the International Association for the Study of Lung Cancer (IASLC)/International Thymic Malignancy Interest Group (ITMIG) proposal for the new TNM-staging system on clinical implementation and prognosis of thymic malignancies.
Methods
A retrospective study of 76 patients who underwent surgery between January 2005 and December 2015 for thymoma. Kaplan–Meier survival analysis was used to determine overall and recurrence-free survival rates.
Results
Indication for surgery was primary mediastinal tumor (
n
= 55), pleural manifestation (
n
= 17), or mediastinal recurrence (
n
= 4) after surgery for thymoma. Early Masaoka-Koga stages I (
n
= 9) and II (
n
= 14) shifted to the new stage I (
n
= 23). Advanced stages III (Masaoka-Koga:
n
= 20; ITMIG/IASLC:
n
= 17) and IV (Masaoka-Koga:
n
= 33; ITMIG/IASLC:
n
= 35) remained nearly similar and were associated with higher levels of WHO stages. Within each staging system, the survival curves differed significantly with the best 5-year survival in early stages I and II (91%). Survival for stage IV (70 to 77%) was significantly better compared to stage III (49 to 54%). Early stages had a significant longer recurrence-free survival (86 to 90%) than advanced stages III and IV (55 to 56%).
Conclusions
The proportion of patients with IASLC/ITMIG stage I increased remarkably, whereas the distribution in advanced stages III and IV was nearly similar. The new TNM-staging system presents a clinically useful and applicable system, which can be used for indication, stage-adapted therapy, and prediction of prognosis for overall and recurrence-free survival.