18.08.2017 | Original Article | Ausgabe 1-3/2017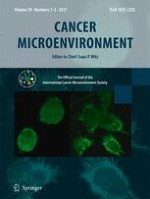 Expression Profiling of the MAP Kinase Phosphatase Family Reveals a Role for
DUSP1

in the Glioblastoma Stem Cell Niche
Zeitschrift:
Autoren:

Bradley N. Mills, George P. Albert, Marc W. Halterman
Wichtige Hinweise
Electronic supplementary material
The online version of this article (doi:
10.​1007/​s12307-017-0197-6
) contains supplementary material, which is available to authorized users.
Abstract
The dual specificity phosphatases (DUSPs) constitute a family of stress-induced enzymes that provide feedback inhibition on mitogen-activated protein kinases (MAPKs) critical in key aspects of oncogenic signaling. While described in other tumor types, the landscape of DUSP mRNA expression in glioblastoma (GB) remains largely unexplored. Interrogation of the REpository for Molecular BRAin Neoplasia DaTa (REMBRANDT) revealed induction (
DUSP4, DUSP6
), repression (
DUSP2, DUSP7–9
), or mixed (
DUSP1, DUSP5, DUSP10, DUSP15
)
DUSP
transcription of select DUSPs in bulk tumor specimens. To resolve features specific to the tumor microenvironment, we searched the Ivy Glioblastoma Atlas Project (Ivy GAP) repository, which highlight
DUSP1
,
DUSP5
, and
DUSP6
as the predominant family members induced within pseudopalisading and perinecrotic regions. The inducibility of
DUSP1
in response to hypoxia, dexamethasone, or the chemotherapeutic agent camptothecin was confirmed in GB cell lines and tumor-derived stem cells (TSCs). Moreover, we show that loss of
DUSP1
expression is a characteristic of TSCs and correlates with expression of tumor stem cell markers
in situ
(ABCG2, PROM1, L1CAM, NANOG, SOX2). This work reveals a dynamic pattern of DUSP expression within the tumor microenvironment that reflects the cumulative effects of factors including regional ischemia, chemotherapeutic exposure among others. Moreover, our observation regarding
DUSP1
dysregulation within the stem cell niche argue for its importance in the survival and proliferation of this therapeutically resistant population.