18.10.2017 | Assisted Reproduction Technologies | Ausgabe 2/2018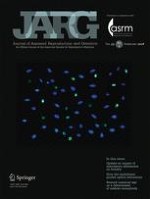 Extended culture of poor-quality supernumerary embryos improves ART outcomes
Zeitschrift:
Autoren:

Amira Sallem, Pietro Santulli, Virginie Barraud-Lange, Nathalie Le Foll, Lucile Ferreux, Chloé Maignien, Mathilde Bourdon, Charles Chapron, Dominique de Ziegler, Jean-Philippe Wolf, Khaled Pocate-Cheriet
Wichtige Hinweise
Amira Sallem and Pietro Santulli are joint first author.
Abstract
Purpose
The aims of this study were to investigate the possible benefits of extending the culture of poor-quality day-2 embryos (PQE) versus good-quality embryos (GQE) and to identify factors associated with pregnancy and live birth when transferring frozen-thawed blastocysts originating from GQE and PQE.
Methods
This is a retrospective cohort follow-up study performed between November 2012 and February 2015 at the IVF Laboratory Unit of Cochin University Hospital (Paris, France) including 3108 day-2 supernumerary embryos resulting from 1237 IVF/ICSI cycles.
Results
Total blastulation rate was 67.2% from GQE and 48.7% from PQE. Percentage of good-quality blastocysts was 60.7 and 47.9% respectively including 14.7 and 7.3% top-quality blastocysts. A total of 150 blastocysts originating from GQE and 729 from PQE were frozen, and then, 37 and 164 were thawed and transferred respectively resulting in 19 (51.4%) and 61 (37.9%) clinical pregnancies with 13 (35.1%) deliveries from GQE and 32 (19.9%) from PQE (
p
= 0.046) without any difference in neonatal outcomes. Quality of blastocysts that resulted in live birth was similar in the two groups. Women < 35 years old and day-5 blastocyst expansion were predictive of pregnancy and live birth.
Conclusions
(i) PQE are able to reach the blastocyst stage, to implant, and to give healthy babies and (ii) women age and day of blastocyst expansion are predictive of pregnancy and live birth.