27.05.2020 | Original Paper | Ausgabe 6/2020 Open Access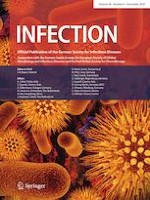 Extended-spectrum beta-lactamase (ESBL) producing Enterobacterales in stool surveillance cultures of preterm infants are no risk factor for necrotizing enterocolitis: a retrospective case–control study over 12 years
Zeitschrift:
Autoren:

Martin Eberhart, Andrea Grisold, Michela Lavorato, Elisabeth Resch, Andreas Trobisch, Bernhard Resch
Abstract
Purpose
Microbial dysbiosis has been found preceding necrotizing enterocolitis (NEC) in preterm infants; thus, we aimed to investigate whether there is evidence that neonates with extended-spectrum beta-lactamase-producing Enterobacterales (ESBL-E) positive stool cultures are at higher risk for NEC at the NICU.
Methods
We included very preterm inborn infants of ≤ 32 weeks of gestational age being fecal carriers of ESBL-E and compared them with 1:1 matched (gestational age, birth weight, gender and year) controls tested negative for ESBL-E in the stool between 2005 and 2016. An association with NEC was defined as the first detection of ESBL-E before or at the time of definite diagnosis of NEC.
Results
During the study period, we diagnosed 217 infants with a total of 270 ESBL-E. We identified ten different species with ESBL-producing
Klebsiella oxytoca
being the most common one (46%) followed by Klebsiella pneumoniae (19%), and
Citrobacter freundii
(17%). Ten out of 217 infants had any kind of NEC in the case group compared to two of the controls (
p
 < 0.01), but only four cases with predefined criteria were associated with NEC ≥ stage IIa (1.8 vs. 0.5%,
p
 = 0.089, OR 4.1, CI95% 0.45–36.6). NEC mortality rate was 2/8 (25%).
Conclusions
We observed a threefold increase of ESBL-E in stool surveillance cultures during study time and germs were dominated by ESBL-producing Klebsiella spp. There was no evidence that preterm infants colonized with ESBL-E in the stool were at higher risk for definite NEC.