05.02.2018 | Original Article | Ausgabe 1/2018 Open Access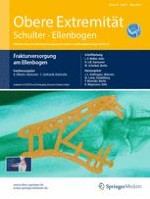 Fractures of the capitellum humeri and their associated injuries
Zeitschrift:
Autoren:

Valentin Rausch, Matthias Königshausen, Thomas A. Schildhauer, Jan Gessmann, Dominik Seybold
Abstract
Objective
Fractures of the capitellum are rare injuries but are often more complex and of a greater extent than assumed from conventional radiographs. Classification is usually based on their extension in relation to the trochlea the trochlea and on the number of fragments. Information on associated injuries is limited and only reported in small case series. The aim of this retrospective study was to report on our experience with capitellar fractures and their associated injuries.
Methods
We retrospectively reviewed all patients treated for fractures of the capitellum humeri at our institute between 2005 and 2017. Fractures were classified according to the Bryan–Morrey and the Dubberley classification and analyzed for their associated injuries depending on the fracture type using the chi-squared test.
Results
A total of 27 capitellar fractures were treated at our institute between 2005 and 2017. The median age of the patients was 57 years (range, 4–78) and they were all treated operatively. Associated injuries of the elbow were found in 12 cases (ten radial head fractures, two elbow dislocations, two tears of the radial collateral ligament). The injury mechanism was known for 26 patients (four fell on their outstretched arm, 19 suffered a direct blow to their elbow, two had a traffic accident).
Conclusion
The incidence of radial head fractures is high in patients with capitellar fractures. Patients suffering a fracture of the capitellum humeri should be thoroughly examined for such associated injuries since a missed diagnosis can lead to poor outcomes.