01.12.2012 | Research article | Ausgabe 1/2012 Open Access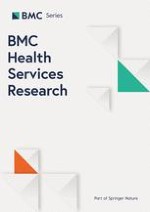 Frequent hospital admission of older people with chronic disease: a cross-sectional survey with telephone follow-up and data linkage
Zeitschrift:
Autoren:

Jo M Longman, Margaret I Rolfe, Megan D Passey, Kathy E Heathcote, Dan P Ewald, Therese Dunn, Lesley M Barclay, Geoffrey G Morgan
Wichtige Hinweise
Electronic supplementary material
The online version of this article (doi:
10.​1186/​1472-6963-12-373
) contains supplementary material, which is available to authorized users.
Competing interests
The authors declare that they have no competing interests.
Authors'contributions
JL, KH, MP, DE, LB and GM designed the study. JL, KH, MP, GM, LB and DE designed the questionnaire and managed its completion and recording. JL and KH conducted, managed and analysed follow up phone calls. TD and MR managed the survey data and linked the data, and MR conducted the statistical analysis. JL, MR, MP, DE and MP produced the first drafts of the manuscript and all authors contributed comments and acknowledged authorship.
Abstract
Background
The continued increase in hospital admissions is a significant and complex issue facing health services. There is little research exploring patient perspectives or examining individual admissions among patients with frequent admissions for chronic ambulatory care sensitive (ACS) conditions. This paper aims to describe characteristics of older, rural patients frequently admitted with ACS conditions and identify factors associated with their admissions from the patient perspective.
Methods
Patients aged 65+ resident in North Coast NSW with three or more admissions for selected ACS chronic conditions within a 12 month period, were invited to participate in a postal survey and follow up telephone call. Survey and telephone data were linked to admission and health service program data. Descriptive statistics were generated for survey respondents; logistic regression models developed to compare characteristics of patients with 3 or with 4+ admissions; and comparisons made between survey respondents and non-respondents.
Results
Survey respondents (n=102) had a mean age of 77.1 years (range 66–95 years), and a mean of 4.1 admissions within 12 months; 49% had at least three chronic conditions; the majority had low socioeconomic status; one in five (22%) reported some difficulty affording their medication; and 35% lived alone. The majority reported psychological distress with 31% having moderate or severe psychological distress. While all had a GP, only 38% reported having a written GP care plan. 22% of those who needed regular help with daily tasks did not have a close friend or relative who regularly cared for them. Factors independently associated with more frequent (n=4+) relative to less frequent (n=3) admissions included having congestive heart failure (p=0.003), higher social isolation scores (p=0.040) and higher Charlson Comorbidity Index scores (p=0.049). Most respondents (61%) felt there was nothing that could have avoided their most recent admission, although some potential avoidability of admission was described around medication and health behaviours. Respondents were younger and less sick than non-respondents.
Conclusions
This study provides a detailed description of older patients with multiple chronic conditions and a history of frequent admission in rural Australia. Our results suggest that programs targeting medication use, health behaviours and social isolation may help reduce multiple hospital admissions for chronic disease.