01.12.2019 | Research | Ausgabe 1/2019 Open Access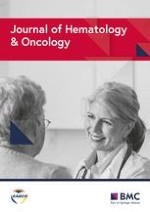 Functional diversity of inhibitors tackling the differentiation blockage of MLL-rearranged leukemia
Zeitschrift:
Autoren:

Krzysztof Brzezinka, Ekaterina Nevedomskaya, Ralf Lesche, Michael Steckel, Ashley L. Eheim, Andrea Haegebarth, Carlo Stresemann
Wichtige Hinweise
Electronic supplementary material
Publisher's Note
Springer Nature remains neutral with regard to jurisdictional claims in published maps and institutional affiliations.
Abbreviations
ALL
Acute lymphoblastic leukemia
APL
Acute promyelocytic leukemia
BET
Bromodomain and extraterminal domain
CDK9
Cyclin-dependent kinase 9
DHODH
Dihydroorotate dehydrogenase
DOT1L
DOT1-like histone H3K79 methyltransferase
GSEA
Gene set enrichment analysis
NES
Normalized enrichment score
PCA
Principal component analysis
P-TEFb
Positive transcription elongation factor b
Background
Chromosomal rearrangements of the lysine methyltransferase 2A (KMT2A), known also as mixed-lineage leukemia (MLL) gene, are associated with high-risk infant, pediatric, adult, and therapy-induced acute leukemia. In infant and early childhood, acute leukemia is the most prevalent cancer and very often can be addressed with available therapeutics. A significant exception are patients genetically defined by MLL-fusions, where for most fusions, a worse prognosis [
1
] is underscoring the need for improved treatment options.
MLL associated genomic changes are balanced chromosomal translocations which result in an in-frame fusion of the MLL1 protein with a nuclear protein often involved in transcriptional elongation. So far, more than 130 different chromosomal rearrangements have been identified, but four of the most frequent fusion partners (AF4, AF9, ENL, and AF10) account for more than 70% of all observed rearrangements in patients [
2
]. While the diversity of observed fusions in patients suggests many disparate genetic subtypes, a common mode of action has been proposed for the oncogenic function of most frequently observed direct fusion (MLL-X) proteins [
3
]. These proteins essentially combine the target gene binding properties of the MLL1 protein with the capacity to trigger efficient transcriptional elongation by RNA polymerase II (RNAPII) recruitment. With the aforementioned properties, the MLL-fusion acts as the dominant transcriptional regulator which disrupts differentiation and promotes leukemogenesis [
4
,
5
]. Wild-type MLL1 is responsible for the tissue-specific epigenetic regulation of homeotic gene expression in differentiation and development [
6
]. Catalytic SET domain is lost in the direct (MLL-X) fusion proteins, while the N-terminal DNA-binding domains and the capability to interact with recruiting co-factors, such as MENIN, are retained. The C-terminal part of different MLL1 fusion proteins is capable of recruiting a large multiprotein machinery ("super elongation complex" (SEC)) involved in activation of RNAPII for transcriptional elongation [
7
]. The mechanistic consequence of the SEC complex recruitment is an increased expression of MLL1 target genes leading to impaired differentiation. It has been shown that MLL-fusions exhibit their transforming capacity largely through upregulation of
HOX
genes [
8
,
9
], especially HOXA9 and MEIS1 [
10
–
12
]. Normally,
HOXA9
and
MEIS1
are expressed at higher levels in stem cells and early lineage progenitors, and expression levels are downregulated with the process of differentiation [
13
]. Aberrant expression of
HOX
genes by the fusion induces a differentiation blockade resulting in leukemic cells with stem cell-like characteristics and increased self-renewal properties, growth, and survival advantages [
14
–
16
]. Since this differentiation blockade is an essential pathomechanism of MLL-fusion proteins, different therapeutic targets, whose inhibition might lead to terminal differentiation and reversal of the leukemia-initiating cells, have been suggested [
1
]. Notably, inhibitors that target core transcriptional proteins are of high interest, since they potentially interfere with the aberrant transcriptional elongation machinery and the leukemic gene expression program. Therefore, inhibitors against the kinase P-TEFb (CDK9/CyclinT1) [
17
], the histone methyltransferases DOT1L [
18
], and the bromodomain and extra-terminal domain (BET) family of proteins [
19
] are currently in clinical testing for AML. Another rather new strategy is the inhibition of the recruitment of the MLL-fusion and associated complex to the target genes. For this propose, inhibitors of the MENIN-MLL interaction have been described and are currently in pre-clinical evaluation [
20
–
22
]. Based on a phenotypic screening approach aimed towards HoxA9 regulation, inhibitors of the dihydroorotate dehydrogenase (DHODH) have emerged as an additional new strategy to overcome the differentiation blockade [
23
]. Despite initial positive pre-clinical evaluation of inhibitors against those targets in fused models of AML/ALL, first data on clinical activity of P-TEFb, BET, and DOT1L first-generation inhibitors are still awaiting true clinical proof of concept [
19
].
Here, we analyzed how inhibitors of some emerging therapeutic targets impact the differentiation blockade induced by the MLL-fusion in a comprehensive benchmark study. A better understanding of the differentiation effects could facilitate the further development and clinical translation of these novel agents. Therefore, in our study, we analyzed OTX015 (BET inhibitor) [
24
], Brequinar (DHODH inhibitor) [
25
], EPZ-5676 (DOT1L inhibitor) [
26
], and BAY 1251152 (novel first-in-class selective CDK9/P-TEFb inhibitor) [
27
], all representing clinical-stage small molecules (Table
1
). Since MENIN-MLL inhibitors are not yet in clinical development, we additionally tested BAY-155, a novel potent and selective inhibitor derived from an in house program (further information see Additional file
1
: Table S1) [
28
]. All different inhibitors were benchmarked for their capabilities to overcome the differentiation blockade, potential overlaps in transcriptional activities, selectivity for the MLL-fusion, and their combination potential.
Table 1
Inhibitors used in this study. Chemical structures of inhibitor used in this study tackling Menin-MLL1 interaction, BRD4/2/3, DOT1L, CDK9, and DHODH active sites, with respective biochemical IC50, rationale and current developmental status
Materials and methods
Cell lines
HL-60 cells were obtained from NCI 60-Panel. Jurkat and MV4-11 cells were obtained from ATCC. OCI-AML5, RS4;11, SEM, ML-2, MOLM-13, MOLM14, NOMO-1, OCI-AML2, KOPN-8, EOL-1, and OCI-AML3 cells were obtained from the Deutsche Sammlung von Mikroorganismen und Zellkulturen (DSMZ, Braunschweig, Germany). All used cells were cultured in the appropriate media and conditions.
Inhibitors
All inhibitors used in this study were synthesized in-house (Bayer AG). BAY-155 was synthesized according to the methods outlined in patent application WO2017207387A1. Inhibitor concentrations for EPZ-5676, Brequinar, and OTX015 used in this in vitro study are lower as plasma concentrations measured in clinical studies [
24
,
26
,
29
]. Plasma concentrations of BAY 1251152 in humans are not yet reported.
Cell proliferation
Cells were seeded in the optimal growth medium at 4000–5000 cells/well in a 96 MTP and cultured 18–24 h before inhibitor treatment. Upon treatment with the indicated inhibitor, cells were cultured for 24 h, 96 h, and 168 h and effects on proliferation were determined using alamarBlue Cell Viability Reagent (Thermo Fisher Scientific, Waltham, MA, USA).
Flow cytometry
Four thousand cells per well were seeded 24 h before they were treated with the indicated inhibitor in a 96 MTP. After 4 or 7 days of treatment, cells were washed with PBS and stained with CD11b - APC (BioLegend, San Diego, California, USA) and DAPI (Thermo Fisher Scientific, Waltham, Massachusetts, USA) or AnnexinV – FITC (BioLegend, San Diego, California, USA) and PI solution (Sigma-Aldrich St. Louis, Missouri, USA) using the FACS Canto II (BD Biosciences, Heidelberg, Germany) and data was analyzed with FACSDiva software.
Cell cycle analysis
Cells were washed with PBS and fixed overnight at − 20 °C with 70% ethanol. Fixed cells were stained with PI solution (Sigma-Aldrich St. Louis, MO, USA) solution containing RNase A (Qiagen, Hilden, Germany). Fluorescence was measured with FACS Canto II (BD Biosciences, Heidelberg, Germany) flow cytometer and data was analyzed with FACSDiva software.
Wright-Giemsa staining
Approximately 10,000 of cytospin prepared cells were air dried, fixed in 100% methanol for 1 min, stained in 100% in Wright-Giemsa staining solution (Sigma-Aldrich St. Louis, Missouri, USA) for 90 s, washed two times in deionized water, and air dried.
Phagocytosis assay
After 7 days of treatment with the indicated inhibitor, cells were washed once with PBS and quantified. Ten thousand viable cells were resuspended in fresh media along with fluorescein-labeled heat-killed
Escherichia coli
BioParticles (Molecular Probes, Eugene, OR, USA) (100,000 units), incubated at 37 °C for 30 min and stained with CD11b - APC (BioLegend, San Diego, CA, USA ) and DAPI. Phagocytosis capability was measured with FACS Canto II (BD Biosciences, Heidelberg, Germany). Immunofluorescence of cytospin preparations was measured on LSM700 microscope (ZEISS, Oberkochen, Germany) using CD11b (APC), DAPI, and
E.coli
particles (FITC).
Gene expression
Total RNA was isolated using RNeasy-Plus Mini kit (Qiagen, Hilden, Germany). RNA (1 μg) was reverse transcribed using SuperScript III First-Strand Synthesis SuperMix (Life Technologies, Carlsbad, CA, USA) and obtained cDNA was used for qRT-PCR at the TaqMan 7900HT Fast Real-Time PCR System (Applied Biosystems, Foster City, CA, USA) utilizing TaqMan Fast Advanced Master Mix (Life Technologies). Commercial primers used in this study are listed in Additional file
2
: Materials and methods. RNA-seq study: cells were treated for 8 h (P-TEFb—0.05 μM, OTX015—1 μM), 24 h (BAY-155—2 μM, Brequinar—2 μM, DMSO—0.1%) and 96 h (EPZ-5676—3 μM, DMSO—0.1%) prior to RNA extraction using RNeasy-Plus Mini kit (Qiagen). Obtained RNA was used for library preparation (Illumina, San Diego, CA, USA. TruSeq Stranded mRNA Kit) and obtained libraries were sequenced (Illumina, HiSeq2500 HTv4, SR, dual-indexing, 50 cycles).
Data analysis and statistical methods
RNA-seq reads were aligned to hg38 using STAR aligner. Gene expression was quantified using RSEM. Samples with less than 10 million reads aligning to the genome were excluded; protein-coding genes with more than 10 reads in more than three samples were used for the analysis (total samples
N
 = 305; genes
N
 = 15,007). DESeq2 was used to find genes differentially expressed upon treatment by inhibitors in either each cell line or in the group of sensitive cell lines, while controlling for differences between the cell lines. GSEA analysis was run on the pre-ranked list based on logFC in expression for each compound. To remove cell line-specific differences in PCA, average expression in the DMSO sample was subtracted for each corresponding cell line. Top 1000 variable genes were selected based on median absolute deviation. Data is available at GEO (
https://​www.​ncbi.​nlm.​nih.​gov/​geo/​
) under accession number GSE125437.
Immunoblotting
Western blot analysis was performed on cell lysates from at least 100,000 cells. Forty micrograms of whole cell protein extract was separated on 4–20% Tris-Glycine gels, transferred to 0.2-μm nitrocellulose membranes, and probed with anti-HEXIM1 (Bethyl, Montgomery, TX, USA) and β-ACTIN (Cell Signaling, Beverly, MA, USA) antibodies.
Results
Discussion
In conclusion, these new findings enhance our understanding on the activity of used inhibitors of those emerging therapeutic targets in MLL-fusion-driven leukemia. Our novel findings give some valuable insights into their differentiation induction potential, which is a possible underestimated contribution of their therapeutic activities in AML/ALL.
Acknowledgements
We thank our Bayer AG colleagues, especially Danny Krzewski, Sinem Subasigueller, Martina Runge, Anne Bruchmueller, Benjamin Block, and Rene Zernicke for technical assistance.
Ethics approval and consent to participate
Not applicable.
Competing interests
All authors are employees of Bayer AG. C.S. is listed as inventor of a patent application (WO2017207387A1) related to Menin-MLL inhibitors.
Open Access
This article is distributed under the terms of the Creative Commons Attribution 4.0 International License (
http://​creativecommons.​org/​licenses/​by/​4.​0/​
), which permits unrestricted use, distribution, and reproduction in any medium, provided you give appropriate credit to the original author(s) and the source, provide a link to the Creative Commons license, and indicate if changes were made. The Creative Commons Public Domain Dedication waiver (
http://​creativecommons.​org/​publicdomain/​zero/​1.​0/​
) applies to the data made available in this article, unless otherwise stated.
Publisher's Note
Springer Nature remains neutral with regard to jurisdictional claims in published maps and institutional affiliations.