08.10.2018 | Original Research | Ausgabe 6/2018 Open Access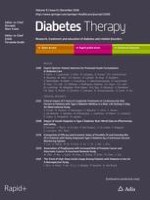 Glucagon-Like Peptide-1 Infusion Suppresses Aldosterone Levels in Healthy Normal-Weight Individuals: Double-Blind, Placebo-Controlled Crossover Study
Zeitschrift:
Autoren:

Maja Baretić, Vesna Kušec, Ivana Pavlić-Renar
Wichtige Hinweise
Enhanced Digital Features
Abstract
Introduction
Glucagon-like peptide-1 (GLP-1) has many effects on the human body, but its glucose-lowering effect through its stimulation of insulin secretion is the most significant. GLP-1 also acts on renal function and hemodynamics. The antihypertensive and renoprotective effects of GLP-1 receptor agonists are partly explained by their vasoactive effect and increased natriuresis, but their positive influences on blood pressure and the development and progression of kidney disease are attributed to many effects beyond glycemic control. The aim of this study was to determine how the native gut hormone GLP-1 influences the renin–angiotensin–aldosterone system (RAAS).
Methods
Fourteen healthy participants (6 males and 8 females) were included in a double-blind, placebo-controlled crossover study. After overnight fasting and oral sodium loading, participants were randomly assigned to receive either placebo (500 ml of 0.9% saline) or GLP-1 infusion (1.5 pmol/kg/min dissolved in 500 ml of 0.9% saline) over a 3-h period. After 3 and 6 h, the following parameters were measured: glucose, insulin, plasma renin activity, aldosterone, GLP-1, and antidiuretic hormone. After 7 days, the protocol was repeated, except that those who had previously received placebo now received GLP-1 infusion, and those who had previously received GLP-1 now received placebo.
Results
Three hours after GLP-1 infusion, aldosterone had decreased by a statistically significant amount (
p
 < 0.008) compared to the baseline level.
Conclusion
The present study showed that native GLP-1 can decrease aldosterone secretion in a group of healthy individuals, supporting the idea of beneficial outcomes of GLP-1-activating agents on blood pressure and the RAAS.
Trial Registration
ClinicalTrials.gov Identifier: NCT02130778.