01.12.2017 | Research | Ausgabe 1/2017 Open Access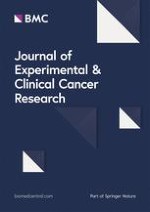 Heat shock factor 1 inhibits the mitochondrial apoptosis pathway by regulating second mitochondria-derived activator of caspase to promote pancreatic tumorigenesis
Zeitschrift:
Autoren:

Wenjin Liang, Yong Liao, Jing Zhang, Qi Huang, Wei Luo, Jidong Yu, Jianhua Gong, Yi Zhou, Xuan Li, Bo Tang, Songqing He, Jinghong Yang
Wichtige Hinweise
Electronic supplementary material
The online version of this article (doi:
10.​1186/​s13046-017-0537-x
) contains supplementary material, which is available to authorized users.
Wenjin Liang and Yong Liao are considered as co-first authors
Abstract
Background
As a relatively conservative transcriptional regulator in biological evolution, heat shock factor 1 (HSF1) is activated by, and regulates the expression of heat shock proteins (HSPs) in response to a variety of stress conditions. HSF1 also plays a key role in regulating the development of various tumors; however, its role in pancreatic cancer and the specific underlying mechanism are not clear.
Methods
We first examined HSF1 expression in pancreatic cancer tissues by immunohistochemistry, and then studied its clinical significance. We then constructed HSF1-siRNA to investigate the potential of HSF1 to regulate apoptosis, proliferation and the cell cycle of pancreatic cancer cells and the underlying mechanism both in vitro and in vivo. Protein chip analysis was used subsequently to explore the molecular regulation pathway. Finally, second mitochondria-derived activator of caspase (SMAC)-siRNA was used to validate the signaling pathway.
Results
HSF1 was highly expressed in pancreatic cancer tissues and the level of upregulation was found to be closely related to the degree of pancreatic cancer differentiation and poor prognosis. After HSF1-silencing, we found that pancreatic cancer cell proliferation decreased both in vitro and in vivo and the apoptotic cell ratio increased, while the mitochondrial membrane potential decreased, and the cells were arrested at the G0/G1 phase. In terms of the molecular mechanism, we confirmed that HSF1 regulated SMAC to inhibit mitochondrial apoptosis in pancreatic cancer cells, and to promote the occurrence of pancreatic tumors. SMAC silencing reversed the effects of HSF1 silencing.
Conclusion
Our study provides evidence that HSF1 functions as a novel oncogene in pancreatic tumors and is implicated as a target for the diagnosis and treatment of pancreatic cancer.