01.12.2017 | Research | Ausgabe 1/2017 Open Access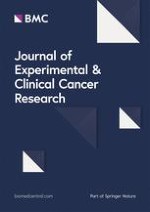 Hepatitis C virus NS3 protein enhances hepatocellular carcinoma cell invasion by promoting PPM1A ubiquitination and degradation
Zeitschrift:
Autoren:

Yali Zhou, Yan Zhao, Yaoying Gao, Wenjun Hu, Yan Qu, Ning Lou, Ying Zhu, Xiaoping Zhang, Hongmei Yang
Wichtige Hinweise
Electronic supplementary material
The online version of this article (doi:
10.​1186/​s13046-017-0510-8
) contains supplementary material, which is available to authorized users.
Abstract
Background
Growing evidence suggests that hepatitis C virus (HCV) contributes to hepatocellular carcinoma (HCC) by directly modulating oncogenic signaling pathways. Protein phosphatase magnesium-dependent 1A (PPM1A) has recently emerged as an important tumor suppressor as it can block a range of tumor-centric signaling pathways through protein dephosphorylation. However, the role and regulatory mechanisms of PPM1A in HCV-infected cells have not been reported.
Methods
Total, cytoplasmic, and nuclear PPM1A protein after HCV infection or overexpression of HCV nonstructural protein 3 (NS3) were detected by western blotting. The expression of PPM1A in normal liver and HCV-related HCC tissues was quantified by immunohistochemistry. The effects of HCV infection and NS3 expression on the PPM1A protein level were systematically analyzed, and the ubiquitination level of PPM1A was determined by precipitation with anti-PPM1A and immunoblotting with either anti-ubiquitin or anti-PPM1A antibody. Finally, the roles of NS3 and PPM1A in hepatoma cell migration and invasion were assessed by wound healing and transwell assays, respectively.
Results
HCV infection and replication decreased PPM1A abundance, mediated by NS3, in hepatoma cells. Compared to normal liver tissues, the expression of PPM1A was significantly decreased in the HCC tumor tissues and adjacent non-tumor tissues. NS3 directly interacted with PPM1A to promote PPM1A ubiquitination and degradation, which was dependent on its protease domain. Blockade of PPM1A through small interfering RNA significantly promoted HCC cell migration, invasion, and epithelial mesenchymal transition (EMT), which were further intensified by TGF-β1 stimulation, in vitro. Furthermore, restoration of PPM1A abrogated the NS3-mediated promotion of HCC migration and invasion to a great extent, which was dependent on its protein phosphatase function.
Conclusions
Our findings demonstrate that the HCV protein NS3 can downregulate PPM1A by promoting its ubiquitination and proteasomal degradation, which might contribute to the migration and invasion of hepatoma cells and may represent a new strategy of HCV in carcinogenesis.